Trump says Apple will build three plants in the U.S.
90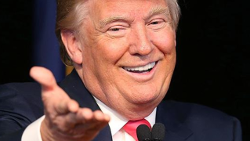 President Donald Trump, who sparred often with Apple during the presidential campaign about Apple's dependency on overseas factories and workers, said during an interview today that Apple will be building three plants in the U.S. While this news has not been confirmed by the company, Trump stated that he was told by Apple CEO Tim Cook that Apple would build "three big plants, beautiful plants." The president said in Time Magazine after the election last year, that he wanted Apple to build its best plant ever in the U.S. "even if it's only a foot bigger than some place in China."
Trump didn't give out any specifics about these new factories such as where they will be build, or what they will produce. Apple says that including its own 80,000 U.S. based employees, it supports 2 million jobs in the states when taking into account suppliers, app developers and others. While Apple does rely on some U.S. based contract manufacturers to build some Mac models, products like the iPhone and iPad are made in China by manufacturers like Foxconn and Pegatron. Trump said today that Foxconn will be building a factory in Wisconsin, but this plant is expected to turn out display panels for television sets and is not related to its production of Apple devices.
"I spoke to [Mr. Cook], he's promised me three big plants—big, big, big. I said you know, Tim, unless you start building your plants in this country, I won't consider my administration an economic success. He called me, and he said they are going forward."-President Donald Trump
Since Apple historically relies on contract manufacturers to build its products, the tech titan owns only one factory and that is in Ireland. Building three new factories in the U.S. would be a big change for the company, which has built a sophisticated supply chain overseas allowing it to score huge margins on its mobile devices.
source:
WSJ