TikTok's first phone looks a lot like the iPhone 12 rumors
24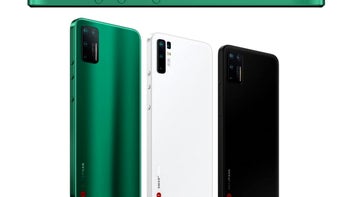 While Senate Minority leader Chuck Schumer is
fighting
the good fight with the short video sharing app
TikTok
, the winning march of the platform continues unabated. So much so, that TikTok just outed their own phone yesterday, complete with high-end specs, each camera type under the sun on the back and a design that looks very much like... what the
iPhone 12
is heavily rumored to end up being.
Assembled by
Smartisan
- more popular with its flamboyant CEO who is now banned from planes in China than with its phones - the handset boasts the latest Snapdragon 855+ chipset, 8GB/128GB or 12GB/256GB memory combos, 4000mAh battery, and no less than four cameras on the back.
It's not your average four-banger, either, as to the wide, ultra-wide, and telephoto cameras, TikTok added a macro lens, too, explaining the convoluted camera area design on the back of the Nut Pro 3 (yep, that's how the phone is called).
As you can see, the first TikTok handset is pretty decked out when it comes to specs but the more interesting choice is its design language. Reputed Apple analyst Ming-Chi Kuo mentioned in a note to clients not long ago that Apple is gearing up for a "back to the future" iPhone 12 redesign that will feature flat side band fusing a glass sandwich body similar to... the iPhone 4.
Apple will apparently introduce a new metal midframe shape coupled with a different back panel than what we have now. When you add the 5G modem and 5nm apple A14, Apple will be raising prices compared to this year's Pro models, says Kuo. If you want to preview how the eventual iPhone 12 may feel like, complete with
four cameras on the back
for the Pro models, look no further than this here TikTok brainchild above.