They grow up so fast: Huawei ships 10 million P9 and P9 Plus phones, reaches its yearly goal
14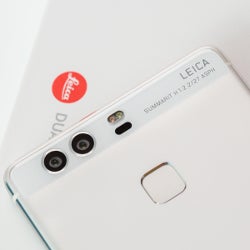 Huawei has been hard at work making its name known in the smartphone industry for a few years now. When it comes to its flagships. the company focuses on making shiny, metallic, premium-looking smartphones, and doesn't hold back on experimenting with tech such as
Force Touch
or
dual cameras
. This year's
Huawei P9
flagship, for example, features a dual camera developed in
partnership with Leica
, and the manufacturer invested quite a lot in a PR and marketing campaign, which made sure that the P9 will be seen by anyone looking for a brand-new flagship.
It seems all the effort has been paying off for Huawei. Back in October, the smartphone slinger reported that
it has shipped 100 million phones
(of all models) internationally — it took Huawei
the whole of 2015
to reach this number, so, obviously, the manufacturer is having a good 2016. Back then, the number of flagship P9 and
P9 Plus
phones that were sold was 6 million.
Since it achieved such good results in 2015, Huawei's target for 2016 was raised to 140 million shipped phones. And the company's senior VP, Yu Chengdong, has now confirmed that this target has been reached. Since the flagship P9 was at 9 million shipments in November, it's easy to assume that, since Huawei has hit its 140-million mark, the P9 and P9 Plus have passed the 10 million shipments milestone as well. The company expects its flagship duo to sell around 12 million devices internationally before it is replaced by its successors in 2017.
Sounds great, but how does this compare? Well, Samsung sold about 10 million
Galaxy S7
phones
within the first month of its release
, and Apple sold the mind-boggling 13 million
iPhone 6s
and
6s Plus
devices
within their release weekend
. So, Huawei is yet to catch up with the major players internationally, but there's no denying that the company has certainly managed to establish a presence both on the market and in users' minds.