The nightmare doesn't end: another Galaxy S7 edge catches fire in Canada!
99+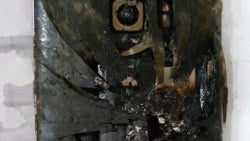 So, Samsung finally decided to
bury the Note 7
and try and continue its business as usual, selling the many other premium devices it has in stock. A large percentage of users who were forced to return their S Pen-toting phablets also decided to remain
faithful to the brand
, and mostly opted for a
Galaxy S7 edge
or the regular
Galaxy S7
. In fact, reports suggest that the company had to
boost production for the aforementioned flagships
, as demand spiked in recent weeks.
However, among the
Note 7
combustion reports, we did catch a couple of glimpses of Galaxy S7 edge units also reported as catching fire. And, while those reports were few and far between, it was easy to consider them oddball accidents, probably caused by mishandling or a bad lemon of a device. But for one reason or another, now that the Note 7 saga is over, there seem to be a few reports of the S7 edge catching fire that are a bit too close in time than comfortable.
In the past month, we've heard about a Galaxy S7 edge catching fire
in the Philippines
,
in the US
, and now — there's a report from Canada. One Elisha Loewen reported on Google+ that his curvy smartphone started smoking as it was sitting idle in a storage compartment in his car's dashboard. He managed to pick up the extremely hot device for just long enough to be able to toss it out the window, after which he used the snow outside to douse the fire.
According to Mr. Loewen, carrier Bell refused to deal with the faulty device and instructed him to contact Samsung support directly. The customer did exactly that and has sent a set of photos (seen below). Now, he is awaiting for an expert to get back to him.
We'll see how this story unfolds. It's a bit early to talk about an S7 edge recall, and it definitely hasn't had as many incidents as the Note 7. But it's very easy to get paranoid over Sammy's shiny flagships nowadays. We are glad to know that Mr. Loewen wasn't hurt in the ordeal and we hope that this was just a very, very rare accident.
source:
Elisha Loewen
via
Android Headlines