No repairs: Samsung may plan to just 'dispose' of all recalled Note 7 units
13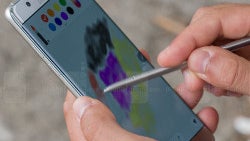 While Samsung may not be producing another Note in the near future, it will certainly have a lot of
Note 7
phablets on its hands to deal with after the second recall - up to 2.5 million units, to be precise. What are Samsung's plans to deal with those? Well, according to a company spokesperson: "
We have a process in place to safely dispose of the phones
."
That's the usual boilerplate statement you can expect as an answer to such question, but it does disclose an interesting fact - Samsung may not be planning to repair, refurbish, or otherwise attempt to fix the Note 7 units it receives in the safety recall boxes. It is simply going to extract whatever can be reused from them, and that's that with all those phablets.
It breaks our heart that the
Blue Coral
version has to meet its maker in such a way, but the more pressing trouble in the word "dispose" is the environmental impact of trying to discard of millions of high-end phones. While Samsung has a good sustainable production record, the fact remains that we are just not as good at recycling phones as we should be. Moreover, as you can see from the diagram below, taken from Samsung's latest sustainability report, more than half a phone's environmental impact is during development and sourcing of the materials that go into it before production, with another quarter going into transport and distribution.
To make one Note 7 might have taken up to 500 pounds of rare earth minerals, and only a fraction of the components that go into the handset can be recycled successfully for future use. Hopefully Samsung will make the most out of it even though the recall is already costing it about a grand a piece in a
direct hit to the quarterly results
.