Samsung Galaxy S7 edge explodes while charging
99+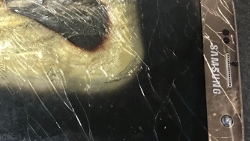 One of our loyal PhoneArena readers, who works for one of the big U.S. wireless carriers, just sent us an email pertaining to one of his company's subscribers. The source, who asked for anonymity, says that a customer just came into the store he works at with a
Samsung Galaxy S7 edge
that had exploded. The sad thing for the customer, is that he just received the unit two weeks ago after turning in his
Samsung Galaxy Note 7
(version 2 with the "safe" battery). According to the owner of the handset, it was charging overnight using the OEM charger.
This is not the first time that the Galaxy S7 edge has been involved in an explosion. Last month, we told you that a man working on a construction job in Ohio
sued Samsung after a Galaxy S7 edge exploded in his pants
. The victim suffered second and third degree burns and had to go through painful skin grafts. Also last month, we told you about a Galaxy S7 edge that
exploded in the middle of the night while being charged
. Similar to the latest issue with the phone, the original charging equipment was being used.
We've seen a number of claims involving other manufacturers as well. On Thursday we told you about an
Apple iPhone 7
owner who says that
his phone exploded, destroying his car in the process
.
The big question at the moment is, how many explosions does it take before a manufacturer feels it necessary to carefully re-examine a smartphone it designed and had built? Thanks to heavy media attention, consumers are taking note (no pun intended). Already, one survey shows that 40% of those who own a Samsung handset
will never again buy another Samsung smartphone
.
Thanks for sending this in!
Recommended Stories