The best phablets and big-screen phones money can buy in 2014
99+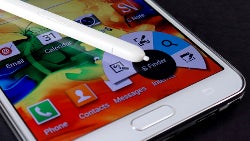 Last year could certainly be titled The Year of the Phablet, whether you like the term or not, and 2014 is off to a great start in that category, too. In 2013, Samsung's Note family representatives met some serious competition for the first time, when most every phone maker decided to introduce their take on those 5.5"+ devices that people seem to be jonesing about lately.
In 2013, Sony one-upped the competition with the 6.3" waterproof
Xperia Z Ultra
, making it a member of the sub-7mm club. HTC also chipped it with the
One max
and its innovative fingerprint scanner on the back, while Nokia entered the race in a heartwarming manner with its pivotal for Windows Phone
Lumia 1520
, and the affordable
1320
.
This year we already have the
LG G Pro 2
, with its optically stabilized camera, the
Xperia T2 Ultra
, with the longest battery life we've ever measured on a mobile device, and the
Oppo Find 7a
with a Snapdragon 801 processor. There are a lot of entrants in-between also, so let's recap what are some of the best phablets money can buy at the moment, before something even wilder has been spotted just around the corner.