The Woz tells Conan why he sides with Apple on the impasse with the FBI
19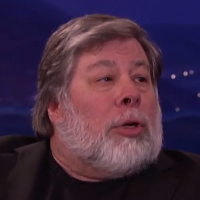 Has it really been more than two weeks since
Apple co-founder Steve Wozniak weighed in on Apple's impasse with the government?
At the time, Wozniak said that Steve Jobs would have agreed with current Apple CEO Tim Cook's decision not to comply with the court order demanding that Apple unlock Syed Farook's
Apple iPhone 5c
.
Today, Wozniak made an appearance on Conan. While as unassuming as ever, Wozniak remains a living legend. And when Conan asked him where he stood on the impasse, The Woz said that he sided with Apple. He first explained that if Apple gives in to the U.S. government, other countries will demand that Apple open the iPhone for them as well. And as he later pointed out, who wants the Chinese government looking at what is inside the iPhones of U.S. leaders.
Just as Tim Cook did
, Wozniak explained that if Apple were to develop the unique "Govt.OS" version of iOS required to unlock the iPhone 5c in question, and the code fell into the wrong hands, every iPhone user on the planet would be in danger of having the personal information stored on their phone stolen. Wozniak passed along an interesting story about how he twice developed a virus type code that could have spread through Macs forever. Both times, he panicked and made sure that all scraps of paper with the codes were properly destroyed as he feared that they might get into the wrong hands.
You have to believe that Wozniak has given this issue some thought. He is not the type to agree with Apple just because he co-founded the company, and has disagreed with Cupertino before.
Thanks for the tip!
source:
TeamCoco