The Woz says Apple should've introduced a bigger-screened iPhone years ago
41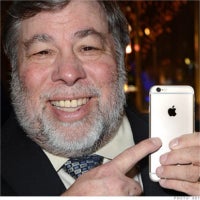 Steve Wozniak, Apple co-founder and tech tinkerer extraordinaire, hasn't been keen on keeping his opinions to himself when it comes to the mobile industry and, more importantly, the company he helped start all those years back. In fact, the Woz has, more than once, said that he is
an Android fan
and one of the reasons for that were the bigger screens – he also recently said (probably jokingly) that the new, bigger iPhones have finally led him to
throw all of his Androids away
.
Anyway, on this topic, the Woz recently talked to CNN and said that, in his opinion, Apple could've had a much bigger share of the mobile market, had it released an iPhone with a larger screen 3 years ago, instead of resisting the trend. He adds that this would've helped Cupertinians compete better with Samsung.
We do see what Mr. Wozniak means – this year's
iPhone 6
and
iPhone 6 Plus
sales are marking an all-time high and every analyst cites the bigger screen as the culprit, though we wouldn't say that Apple was losing at something, when compared to Samsung – after all, Sammy, who has a bigger share in the smartphone market, hasn't been doing so good in terms of revenue this past year.
The Woz also commented on the upcoming
Apple Watch
. He has been vocal about finding wearables to be
useless
in the past and it seems his opinion hasn't changed much, as he said he finds the Apple Watch to be nothing but a "luxury fitness band". He is still going to give it a try when it comes out, of course.