The Sprint Framily plan is dead, takes the "funny" commercials down with it
30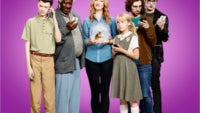 Sprint's new CEO, Marcelo Claure, has his work cut out for him, trying to pull Sprint back out from the hole it's been digging itself into, for the past 7 years. Admitting that he believes the customers' general perception of the carrier to be negative,
Mr. Claure's plan to salvage the operator
includes price cuts, straightforward and easy-to-understand plans, and, unfortunately, some layoffs.
Well, looks like Sprint is already hard at work on that strategy, as it did away with the Framily plan – a plan that was
off to a good start
, but left many customers with a bitter taste in their mouths, due to loops that led them to miscalculate how much the plan would cost them in the long run.
What's actually better is that this automatically stops all those "
Frobinsons
" commercials. If you don't know who the Frobinsons are – they are a weird bunch of characters, which appeared in a series of supposed-to-be humorous commercials for the Framily plan. You can check out the videos, embedded below, if you so desire.
The Framily has been replaced by Sprint's Family Share Pack, which is supposed to bring more choice, flexibility, and savings, according to the carrier, though we suggest you read the fine print. If you are a new customer, the Family Share plan starts at $75 per month for 2 lines and the fee will cap out at $100 for 4 lines allowing you to go up to 10 lines for the same price. The data packages per line can also be customized, allowing for tiers from 1 GB per line, up to 6 GB per line. Maxing the plan out at 10 lines with 6 GB per line will still tally up to $150 per month.
Existing Sprint customers are not so lucky, however. While the minimum still remains at $75, a maxed-out plan will cost them $300 per month.
Also worth noting – there is an additional $15 fee per line per month, which Sprint will not charge for until December 31st, 2015 (yes, 2015, not a typo).