The Meizu PRO 5 to be re-launched as the world's most powerful Ubuntu Phone
11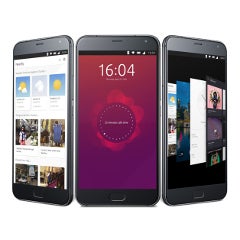 With
Firefox OS
now
being primed for the scrapheap
, Canonical's Android-infused Ubuntu software continues to carry the flag for fringe mobile platforms. Maker Canonical has managed to transfer its vast desktop experience into the mobile market, and will soon up the ante in collaboration with Meizu. The Chinese firm's
Meizu PRO 5
is to be repackaged with the Ubuntu software on board, rendering it the most spec-heavy Ubuntu Phone ever.
With the Exynos 7420 and a whopping 4 gigs of LPDDR4 RAM under the hood, the Meizu PRO 5 is an absolute beast. Though Ubuntu fans have seen
strong handsets in the past
with thanks to
Canonical's cozy relationship with Meizu
, the PRO 5 would put Ubuntu Phone right at the cutting-edge of smartphone tech.
Allied to the aforementioned specs, the device includes a 1080 x 1920 full-HD display over a 5.7-inch canvas, dual-SIM functionality and a 21-megapixel rear-facing camera.
In our review
, the 3050 mAh juice pack mopped the floor with many of its peers in terms of longevity, and charged more quickly than the likes of the
Google Nexus 6P
and
LG G4
.
One of the great assets to Ubuntu is
Convergence
, which is somewhat akin to
Microsoft's Continuum feature
. In-keeping with the PC roots of Ubuntu, Convergence allows owners of compatible devices to hook up a monitor and other peripherals for a full-blown computing experience. The Ubuntu Edition of the Meizu PRO 5 doesn't appear to include the requisite MHL video out support, though, so whether or not Convergence support is on the menu is anyone's guess.
The device will go for pre-order during Mobile World Congress, which kicks off next week. There are no details on pricing or availability as yet, but hopefully those -- along with word on Convergence -- will be clarified at some point during the exhibition.