Meizu Pro 5 Review
60

Introduction
This summer, Meizu launched the MX5 — an ambitious handset that made a wonderful first impression before revealing itself as a slick-looking bundle of compromises. Fast forward to November, and Meizu is already in for a re-match with the Pro 5. Put in a few words, this phablet is the result of the very same pursuits, executed with twice the ambition. If there's any question about the Pro 5 that most needs to be answered, that would be whether the bigger screen, top-shelf internals, and updated user experience are worth the $150 price premium over the three-month old MX5. Let's dig in and find out, shall we!
In the box:
Meizu Pro 5

SIM tray ejector tool
USB Type-C cable
Charger (12V/2A)
Quick start and warranty information
Design
A feeling of precision is undermined by a bulging camera.
Those who know the Meizu MX5 won't be in for any surprises, for the Chinese maker threads the path of incremental improvement. Whipping out the phablet in front of an unsuspecting audience still produces the recurring exclamation of "my, that's a big iPhone you have!" This has sparked some entertaining conversations for sure, but like the MX5 before it, the Pro 5 is no laughing matter.
Rather than opulence, this industrially-beautiful smartphone (sold in Gold, Gray, and Silver) stands out with intelligent design. The back panel and sides are mostly made of polished metal that's decorated with chamfered lines where the body meets the front panel. The antenna bands on the back look like they are carved in the aluminum, but the handset's top and bottom parts are actually made of plastic. Thankfully, this doesn't make for an inconsistent look. Moreover, the phablet's sides are gently rounded, which contributes to a comfortable grip, while the power and volume keys on the right are slim, don't wobble, and produce a satisfying "click".
Speaking of comfort, the phablet measures a sizable 6.17 x 3.07 x 0.30 inches (156.7 x 78 x 7.5 mm) and weighs 5.93 oz (168 g). Although the Pro 5 is a bit larger than other devices in its category, like the Samsung Galaxy Note 5, it feels very nice in the palm with its flat back and uniform weight distribution. Thankfully, the upgrade in screen diagonal hasn't decreased the efficient screen-to-body ratio — a Meizu trademark of sorts — all that much With its 5.4-inch screen, the MX5 stood at 74%, while the Pro 5 and its 5.7-inch display stand at 73.3%. Obviously, someone knew what they were doing!
Meizu worked to high standards in designing and building the Pro 5, but saying the team left no stone unturned would make for an insincere compliment. The Home button feels mushy, and the camera hump on the Pro 5's back undermines the handset's aura of precision. It sticks out too much, propping the phablet upwards when it should be laying flat, and exposing itself to friction damage over time. Hopefully, the sapphire protective lens and metal ring will prove themselves durable over the course of your Pro 5 ownership.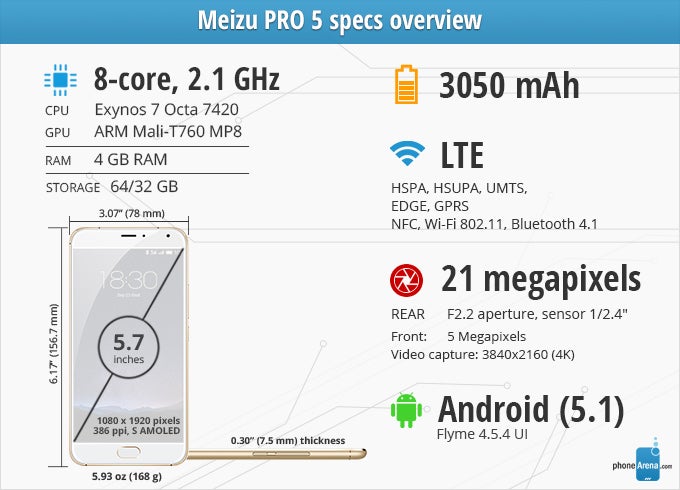 Display
An AMOLED panel with too much green and not enough brightness.
The
Meizu Pro 5
is equipped with a 5.7-inch AMOLED display, covered in Gorilla Glass 3. It's set to a 1080p resolution, which still looks more than fine, even when blown up over a plus-sized screen like this one.
With its maximum brightness output of 327 nits, the Pro 5's display is rather dim in comparison with other hi-end smartphone displays, and using it under bright light will make you squint. But the minimum brightness of just 1 nit makes for a great bedtime phone. Turning our attention to color accuracy, at 7614 Kelvin, the color temperature is on the colder side, and although temp can be adjusted with a slider, color balance still remains problematic.
With the Pro 5, green is very prominent and over-saturated at the expense of seriously subdued red, while yellow is shown as yellow-green. This makes images appear a bit lifeless. Viewing angles are also flawed, as even slight shifts and tilts immediately result in color distortion (the white turns to blue). In short, this display is anything but color-accurate, which is a disappointment considering the panel's near-perfect gamma curve makes for excellent contrast.
Display measurements and quality
Recommended Stories