The HTC U11 has a very interesting and innovative sound recording feature
2

HTC just
announced its 2017 flagship
— the squeezable
U11
. It's a super-shiny handset that comes with all the standard features of contemporary top-shelf smartphones, from a deeply reflective metal-and-glass build to top-notch hardware, water-proofing, and even the lack of a 3.5 mm headphone jack. But there are also a few things in this device that others don't do, and its quad-mic setup really caught our eye.
So, the HTC U11 has four microphones positioned around its body and they come on whenever you are recording video. According to the company, they are able to provide an accurate 360-degree sound recording to make your video represent reality better and be even more immersive.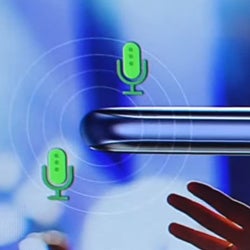 But what is really cool is that when you zoom in while recording the video, the phone activates some magical noise-cancellation and gain boost algorithms, which will also try to record sound from the specific point, where you are zooming, while turning down any ambient noise that's being picked up around you. Kind of like a shotgun mic, which only picks up sound from one direction.
As an example, imagine you are recording a kid, reciting up on stage for the school play. If you zoom in on the stage, the phone will try and boost the sound coming from that direction, while drowning out the speech of audience members around you.
Directional microphone settings is not a new thing on smartphones — the
LG V10
and
LG V20
have a similar feature, though they only employ 3 mics. However, on LG's phones, you only have access to directional settings when in Manual Mode and they are not as sophisticated as what we saw at the U11 presentation. Needless to say, we are quite eager to test the new phone out and
see
hear how well that directional recording performs!