The HTC U11 is the company's new flagship, and you can squeeze it!
22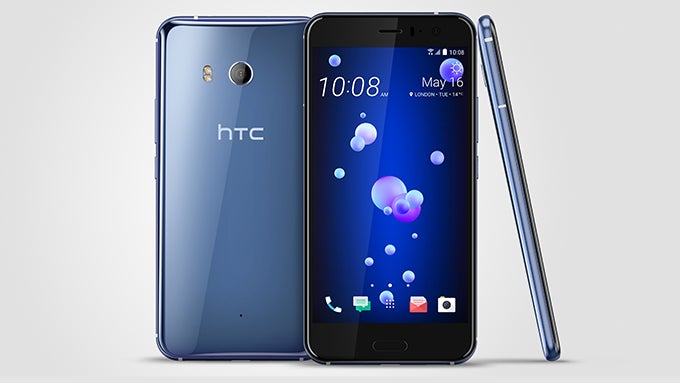 Early 2017's HTC U Ultra and U Play were a pair of devices designed to usher the Taiwanese giant into a new era of smartphones. For a number of reasons, however, consumers weren't really happy with this new direction, so up until now HTC was in need of a new hit. Enter the HTC U11 – a solid flagship with a number of unique features, it might just prove to be exactly what HTC needs right now.
At a cursory glance, the U11 looks to be an amalgamation of its predecessor, the HTC 10, and its siblings in the U line, a theory proven right by its peculiar name, seemingly specifically chosen to underscore the device's origins. But look under the surface, and you'll find an entirely new type of user interaction, called Edge Sense, which lets you squeeze the device to perform context-sensitive actions.
But more on that in a bit; first, let's take a look at the HTC U11's specs:
Platform
Android 7.1 Nougat
Dimensions, Weight
153.9 x 75.9 x 7.9 mm, 169 g
Display
5.5 inch, Quad HD Super LCD 5 (2560 x 1440)
Processor
Qualcomm Snapdragon 835
RAM
4 GB (6 GB in some Asian countries)
Cameras
Rear: Dual Pixel 12MP OIS (F1.7)
Front: 16MP (F1.7)
Storage
64 GB (128 GB in some Asian countries)
Battery
3,000 mAh
Special features
IP67-certified, Edge Sense
Design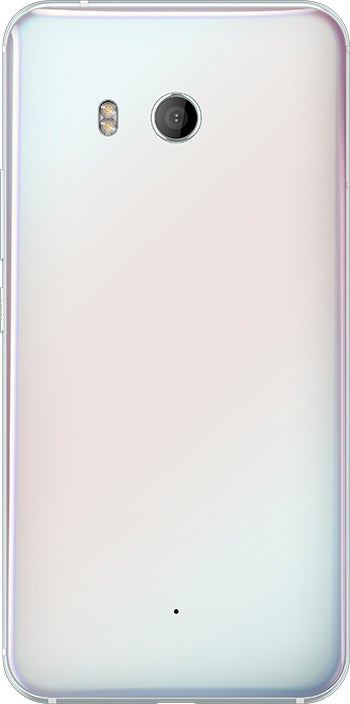 As mentioned, the U11 is something of a mix of old and new: look from the front, and you'll no doubt be reminded of the HTC 10: the screen-to-body ratio is about the same, and so is the off-center button placement below the display. We've also got the front-facing camera and the earpiece, both of which are slightly smaller. What is new, however, is the curved, Gorilla Glass 5 panel, which gives off a much softer impression than its predecessor. The screen itself is a 5.5-inch, Quad-HD (2560 x 1440 pixels) LCD panel, which is an upgrade in terms of size when compared with the HTC 10, while the bezels surrounding it now also come in just one color: black.
Turn the phone around, however, and you'll see a look strikingly similar to the U Play, but in a slightly bigger package. There's the regular camera sensor and flash module, but the centerpiece is the device's outer shell itself: the U11 comes in a number striking colors with an extra glossy finish, which, just like on the U Ultra and U Play, makes the phone amazingly shiny and impossible to miss. The back of the phone also comes in one of five different colors: black, red, blue, silver, and white, though availability will vary by region.
The metal frame surrounding the device blends seamlessly with the front and back glass panels, giving off a nice impression and making it comfortable to hold as well. On the bottom lies a single speaker, along with a USB-C connector, though, as expected, no 3.5 mm audio jack is present. The right side of the phone houses your regular volume and power buttons, as well as the sensors used by Edge Sense.
Under the hood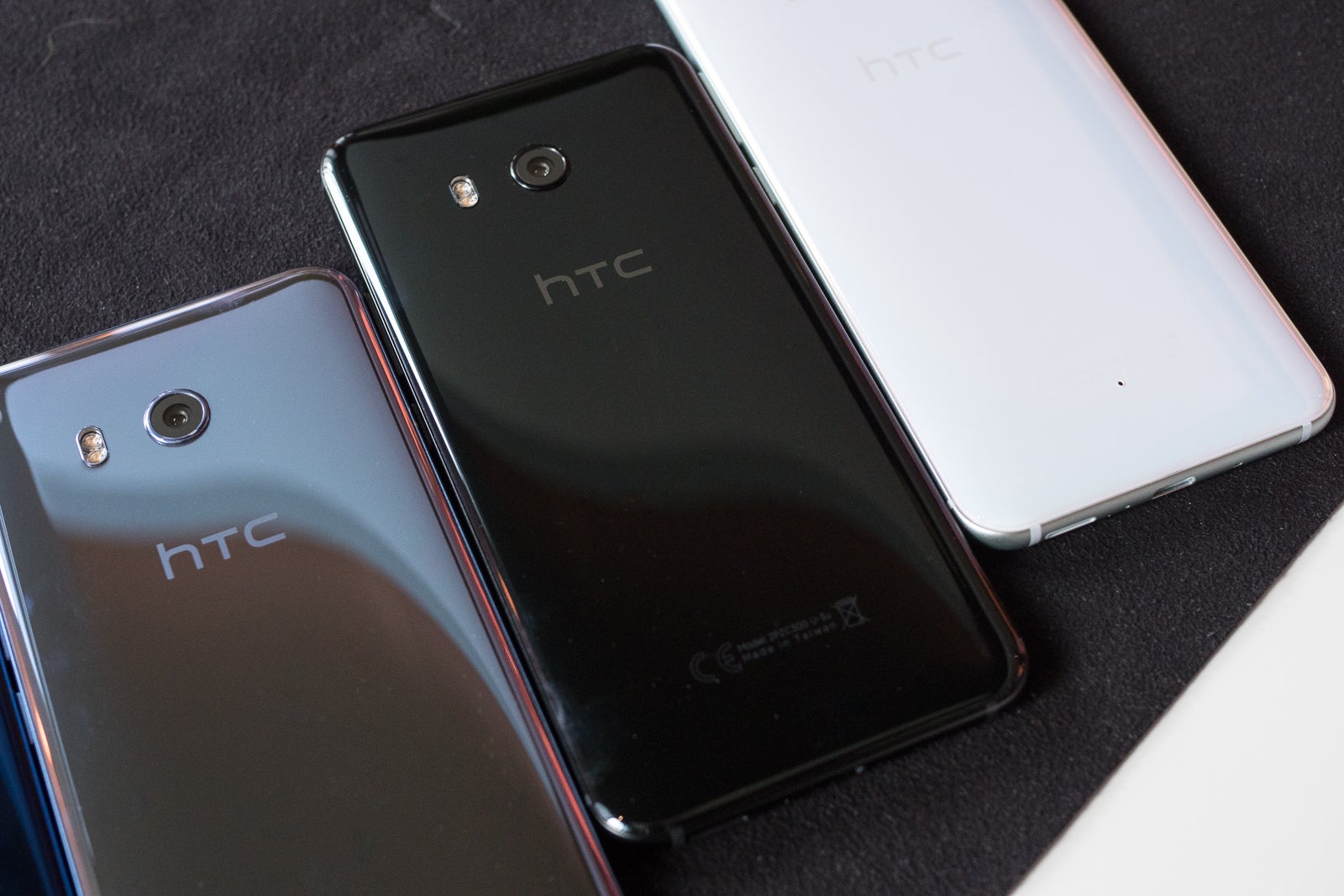 With the U11, HTC seems to be going all-out in terms of specs. This is a definite flagship: running inside is the top-of-the-line Qualcomm Snapdragon 835 SoC, coupled with 4 GB of RAM and 64GB internal storage (though a 6 GB/128 GB version will also be available in some Asian markets). In terms of battery, the U11 doesn't really impress that much – 3,000 mAh is okay, but only real-life testing can prove whether it's enough.
The HTC U11 is IP67-certified, which, despite being the same protection as the iPhone 7's, is still less than a few of its flagship competitors. What that means is that the phone is dust- and splash-proof, but submerging it in water may damage it.
HTC also hasn't given up on a thing it was once famous for: audio. While there are no front-facing speakers to be found on its latest flagship, there are still a number of tricks hidden up its sleeve. Firstly, there's a Hi-Res custom DAC, just like on the HTC 10, which is coupled with the company's own BoomSound Hi-Fi edition post-processing technology. Secondly, the phone itself is equipped with four separate microphones which allow for what HTC calls "3D Audio recording".
Just like the U Ultra, the U11 supports the company's own USonic earphones, which automatically adapt to each user's preference. This time around, however, they're also equipped with active noise cancellation, though the USB-C connector remains the same, for obvious reasons. Those who would like to use their own pair will be pleased to learn that HTC is bundling the U11 with a USB-to 3.5 mm adapter in the box.
Cameras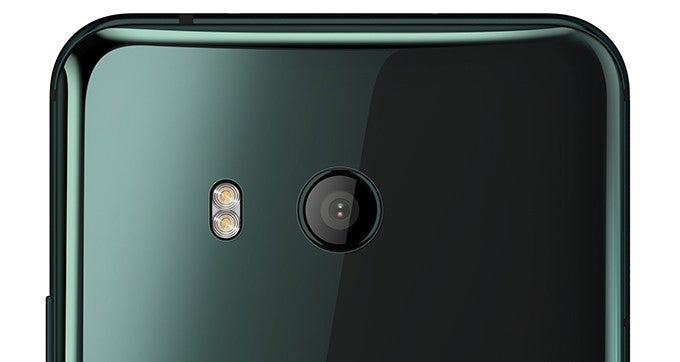 The rear shooter of the HTC U11 doesn't pack a trendy dual-camera module, but is an evolution on the company's previous offerings instead. It's a third-generation UltraPixel, 12 MP shooter, which in real-life terms means that HTC dropped the laser-assisted autofocus and replaced it with Dual Pixel technology, which should make focusing faster than before. The aperture, at F/1.7, is wider than the HTC 10, but the sensor itself is smaller.
The front camera actually packs more megapixels per photo with its 16 MP sensor. Or in other words, the device's cameras are in a similar configuration to that of the HTC U Ultra, which should be good news for smartphone camera enthusiasts.
The camera software itself packs all the bells and whistles one would expect form a flagship: there's a Pro mode with RAW format support, HDR, a panorama mode, Hyperlapse, slo-mo video (120 fps @ 1080p), and 4K video recording with the aforementioned 3D Audio, as well as a feature HTC calls "Acoustic focus".
Edge Sense

But the standout feature for the phone is indisputably what HTC calls Edge Sense, which is prominent in most, if not all of the U11's marketing, and which presents an entirely new way to interact with your phone. In simple terms, it's essentially a set of pressure sensors along the edges of the device, which trigger certain actions when the user squeezes it.
In reality, it functions like a customizable hardware button: a squeeze performs a user-definable action, like, say, opening an app. Different squeezes may result in a different action, with control being limited to a short or a long squeeze. Users can also adjust how much force is required for a squeeze to register.
Unfortunately, however, squeezing in different spots doesn't yield different results, meaning a top squeeze and a bottom squeeze are equal. However, the functionality is still context-sensitive to an extent, as certain apps can bind it to specific actions when the app is in use. For example, squeezing the frame while inside Camera results in a photo being taken, which can be pretty convenient in certain situations.
Expectations, price and release date
The HTC U11 is the 2017 flagship from the company, following the U Ultra's failure on the market. It does a lot of things right, and it might just be what needed to be done for HTC to become a serious contender in the smartphone race again. Still, it's now up to the company to market it well, as a solid, simple device that both channels the past and looks to the future.
However, the U11 costs $650, which is considerably less than the U Ultra's high asking launch price. Or in other words, the HTC U11 might have just overcome its biggest hurdle already, given that it also costs less than both the Galaxy S8 and LG G6, which are its main competitors. As for availability, HTC said in its press conference that the U11 will be released as early as next week in select regions, while the rest of the world will get it in June.
HTC Unveils New Flagship Smartphone
Made for the Brilliant U: Meet the HTC U11
HTC U11 combines revolutionary new squeeze interaction with stunning liquid surface design,
intelligent personal audio, amazing cameras, and multiple AI assistants for a smarter smartphone
Exclusively at Sprint, Amazon, and HTC.com; For a limited time, pre-order HTC U11 from Sprint
and get two Amazon Echo Dots on us
TAIPEI – May 16, 2017 – You affectionately squeeze the hand of the one you love. A baby
intuitively squeezes her mother's finger. A child squeezes his teddy bear to feel safe at night.
Nothing feels as close, connected and personal as the sensation of touch or the warmth of an
embrace. And no device is as personal in our lives as our smartphone.
Inspired by the power of touch and the Brilliant U, HTC today unveiled HTC U11, the
world's first smartphone with revolutionary new squeeze interaction. Made for "U" with design,
materials, and experiences that reflect your inner drive, passion, creativity, and individuality,
HTC U11 offers the most advanced features ever in a smartphone, including:
• HTC Edge Sense, the next dimension in touch interaction with your phone.
• Liquid Surface, a stunning, unique design that reflects you.
• HTC USonic, our most advanced headset ever built for personal audio, now including
Active Noise Cancellation.
• Amazing cameras with the highest independent rating ever awarded to a smartphone camera.
• HTC Sense Companion, Google Assistant, and Amazon Alexa for a smarter, more
All together, HTC U11 sets a new standard of what you can expect from a smartphone.
U touch
• Few things are as natural and intuitive as the sense of touch. HTC Edge Sense transforms
this fundamental sense into a completely new and revolutionary interaction with your phone.
With a simple squeeze, HTC Edge Sense lets you easily engage with your phone in an
unprecedented yet intuitive way, helping you more naturally enjoy the things you love like
taking photos, opening Facebook, or launching any of your favorite apps.
• For example, with HTC Edge Sense, launching your camera has never been easier. No
more fumbling for buttons or awkward hand positions. No more worrying about dropping
your phone while you pose. Just lift, squeeze, smile, and snap.
• You can also send texts faster and easier than before. Texting can be impossible when you
are on the move, but using HTC Edge Sense for Voice to Text, you can speak your text
messages without having to slow down. Lightly squeeze, speak your message and send
your texts on the go.
• You can even customize the squeeze gesture: open email with just a squeeze. Or launch
your favorite game (or any other app). Or pick any one of a host of options. Want even more
touch control? HTC Edge Sense gives you the ability to activate advanced touch and use a
"short squeeze" as well as a "squeeze and hold" for even more functionality at your
fingertips.
• And because Edge Sense is based on actual pressure applied to the side of the device, it
can be used in nearly any condition – including while wearing gloves or in weather such as
snow or rain that would normally be a challenge with capacitive buttons.
Reflects U
• HTC U11's liquid glass surface is crafted to impress using Optical Spectrum Hybrid
Deposition. By layering highly-refractive precious minerals across the phone's back cover,
we've created vivid new colors that transforms light with every movement you make.
• The new seamless, curved look of HTC U11 is achieved with 3D glass on both front and
back. Heating and then bending the glass using extreme pressure results in unique, 3-axis
symmetry for a phone that is slim no matter which way you hold it.
• HTC U11 has a 5.5" Quad HD 3D glass screen designed for vivid, crisp images and text in
any light – even direct sunlight. With our best display and true-to-life color reproduction, we
provide you a purer full-framed viewing experience. Our display avoids the cropped pictures
or distorted colors at the edge that are the results you can expect from a curved screen.
• Plus, HTC U11 is water-resistant3
, so no need to worry about splashes, spills, or dunks.
Tuned to U
• HTC U11 introduces the latest version of HTC USonic, which now combines Active Noise
Cancellation with the ability to tune audio to your unique hearing. By leveraging built-in
microphones on the headset and USB-C data connectivity, USonic earbuds map your inner
ear with an advanced sonar-like technology and then adapt the sound profile to your unique
biology. This creates an incredibly personal and optimized listening experience with vibrant
audio shaped specifically for you.
• USonic now incorporates Active Noise Cancellation, which reduces disruptions and
distractions around you, so you can stay focused on your music. Active Noise Cancellation
continuously monitors environmental sound levels, and quickly adjusts to any new noises or
disturbances. You're free to stay focused on your music, videos, or games.
• HTC BoomSound Hi-Fi Edition speakers got an upgrade, too. We've improved the speaker
design to deliver more loudness and better Dynamic Range Audio. On top, the tweeter now
offers an acoustic chamber that allows the highs and mids to sound richer. While below, the
woofer sports a new speaker and improved magnetic circuit design for louder, clearer and
deeper bass tones. You really have to hear it to believe the power of BoomSound.
• We didn't forget to upgrade the microphones, either, using four optimally positioned omni-
directional microphones together with our new Acoustic Focus technology, HTC brings you
our best 3D audio recording quality yet. HTC U11's microphones work together to record
audio from all directions, and when shooting video with Acoustic Focus, you can visually
zoom in to target your subject and amplify their specific sounds.
• Out of the box, we will also ship an HTC USB-C to 3.5mm adapter with a built-in DAC that
offers great audio performance and wide compatibility with all other devices and earphones.
Pictures that move U
• HTC U11 has achieved the highest ever rating for a smartphone camera for both photo and
video by independent metric DxOMark4
. Our multi-axis optical stabilization system and
super-fast autofocus in all lighting conditions make the camera quick, your pictures sharp,
and videos smooth. We improved our camera and video for a more dynamic exposure range
with HDR Boost without the lag, new white balance enhancement, a major reduction in
noise, and excellent detail preservation.
• HTC U11 introduces Auto HDR Boost to give you all the benefits of HDR without the lag.
HDR Boost offers clearer, more balanced pictures by taking multiple shots that measure the
darkest shadows and brightest highlights without any slowdown. HTC U11 enhances
textures and colors, increases visible detail and brings out the best in every shot. When
shooting video, Temporal Noise Reduction automatically uses information from the previous
and next frames to remove unwanted noise and deliver the clearest video.
• Great news for serious photographers: HTC U11 incorporates the new UltraSpeed
AutoFocus with same full sensor auto-focus technology that's found in top DSLR cameras,
so you can enjoy significantly faster focus speeds, with snappy and delightful performance.
In addition, HTC U11's exceptional optical and electronic stabilization system will keep your
photos and video steady and crisp even when your hand is shaking.
• The new front camera now combines high-resolution 16MP detail and our UltraPixel light
sensitivity for brilliant selfies day or night. It also utilizes the same powerful HDR Boost and
noise reduction as the main camera.
The smarter digital companion for U
• Three brains are better than one, so inside HTC U11 you can find three intelligent
companions devoted to you: HTC Sense Companion, Google Assistant, and Amazon
Alexa
• We've made HTC Sense Companion smarter than ever: it will get to know you and your
daily patterns over time in order to offer you more convenience every day. For example,
HTC Sense Companion is smart enough to notice if you have any late appointments that
day and will remind you to recharge while you have time or bring a power bank. It will make
sure your phone is running at its optimum speed by suggesting to clear junk files and
unused apps for more free space. It will let you know if you need to dress for inclement
weather conditions, track your fitness progress relative to your goals, recommend great
nearby restaurants at mealtime, and much more
• HTC U11 runs the latest version of Android, so it also includes Google Assistant, the helpful
personal assistant powered by Google se arch and services for finding directions, getting
answers, managing your tasks, planning your day, and entertainment.
• HTC U11 is also the first smartphone on the
market to feature hands-free wake word access to
Amazon Alexa. By simply asking questions such
as "Alexa, what's the weather today?" or saying
things like, "Alexa, turn on my living room lights," Alexa will respond to your needs anywhere
you go, making it easy to control smart home products, ask for news, weather, music, and
the 12,000-plus skills in the Alexa skills store. The Alexa voice service is currently available
to customers in the United States, U.K., and Germany.
Powerful U
• HTC U11 is the first smartphone to be
commercially released worldwide that is
exclusively powered by the Qualcomm®
SnapdragonTM 835 Mobile Platform. So no matter what region of the world you live in, you
get an octa-core processor with breakthrough speeds, jaw-dropping graphics, impressively
smooth performance and outstanding battery life. Every HTC U11 also includes UFS 2.1 for
an extremely fast processor paired with the fastest memory performance. Experience
Gigabit Class LTE (up to 1Gbps) with the integrated Snapdragon X16 LTE modem, which is
designed to deliver fiber optic speeds on the go for lightning-fast music and video
downloads and to get almost instant access to the web, social media sites or your content in
the cloud. You get 25% faster graphics than the HTC 10, with 35% or 3 hours more video
playback, 30% or 8 hours more music playback and 43% or 3.5 hours longer web browsing
time via a LTE network
• Sprint is the exclusive carrier launch partner for HTC U11. Enjoy this powerful smartphone
without limitations or worry about data overages with Sprint's Unlimited Freedom7 for the
best price for Unlimited among national U.S. carriers. Unlimited Freedom customers enjoy
Unlimited Data, Talk and Text for $50/month for the first line, two lines for $40 month/line,
four lines for $30 month/line and the fifth line is free. This includes HD streaming for video,
music and gaming, and 10GB/month per line of mobile hotspot data, providing convenience
and extra value. For more information, visit www.sprint.com/unlimited.
• HTC U11 is an HPUE-enabled (High Performance User Equipment) smartphone. HPUE
makes the Sprint network experience even better with increased coverage, more capacity
and faster speeds on capable devices. HPUE-enabled smartphones are designed to give
customers a better overall experience for watching streaming videos and enjoying mobile
gaming and other online apps and services. HPUE can extend Sprint's existing 2.5GHz
coverage by up to 30 percent to nearly match its mid-band 1.9GHz spectrum performance,
including indoors where the majority of wireless traffic is generated. Sprint has more
spectrum than any other carrier across the United States, allowing Sprint to keep adding the
capacity and speed needed to serve customers' increasing demand for unlimited data.
• A blazing fast processor with amazing camera and incredible HTC USonic sound means
you'll want a lot of storage for apps, games, photos, music, and entertainment: HTC U11
offers 4GB RAM/64GB storage and 6GB RAM/128GB storage options, so fun on your
phone is always available.
• HTC U11 also offers a fingerprint reader for enhanced privacy and security. Requiring just a
few minutes to set up, the fingerprint reader will unlock your phone with the press of your
finger – making it faster and easier to jot the note, capture the photo, or do anything you
want with your phone on a moment's notice.
The HTC U11 in Sapphire Blue and Brilliant Black will be available for presale beginning today
at sprint.com, 1-800-SPRINT1 and in Sprint retail stores beginning on June 9 for $0 down and
$29.00 US per month for 24 months (SRP: $696)
And for a limited time, pre-order HTC U11
from Sprint and get two Amazon Echo Dots on us (SRP: $99.98).
Additionally, an unlocked version in Sapphire Blue, Brilliant Black, and Amazing Silver will be
available for presale beginning today at htc.com and amazon.com, shipping in June. Please see
sprint.com, htc.com, or amazon.com for detailed specifications and more information.