The "$400 flagship" concept is dead
57
This article may contain personal views and opinion from the author.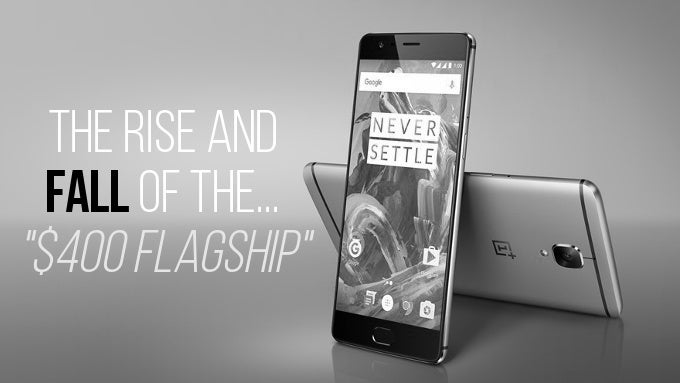 About this very time last year, all of the mobile tech world was buzzing about a new type of phone: the so called
"$400 flagship"
.
Every once in a while, a company would release a phone that would undercut all else in terms of price, but last year there was not one or two of them: a bunch of (mostly) newly-founded companies started selling phones with flagship grade hardware at an amazing price: $400. At the same time, the mainstream brands sold phones with similar hardware at $600 or more. It almost seemed like the end of expensive phones was nigh. Talk about "iPhone killers" and "flagship killers" intensified to the maximum.
One year later, there is far less talk about "$400 flagships". What happened? How did the booming category of the phone industry in 2016 come to a grinding halt just a year later?
We investigate the faith of the "$400 flagship" and look at how its poster children abandoned the idea, usually for one simple reason: profit.
How it all started...
The "$400 flagship" trend seemed to have a very early start somewhere along the times of the Nexus 4 back in 2012. Google launched this flagship-grade phone for just $300, undercutting iPhones and Galaxies by a huge margin. Then came the
Nexus 5
and
Nexus 5X
, two phones that you could not buy at any major carrier yet two phones that turned iconic for their great software support and value for money. And then... silence. The Nexus 6 and Google Pixel ended the trend of affordable phones made by Google, as the company realized it would rather have the profit and make an all-out flagship.
But then, Chinese companies came along to fill in the gap. The poster child of the $400 flagship trend has got to be OnePlus. The company grew like a mushroom by selling super affordable phones: the original OnePlus One from 2014 sold for just $300 packing flagship-grade specs and it caused a small stir. It needed no big marketing budget: its amazing price was enough of an incentive to get people to talk about it. But it was hard to get and not long after came the OnePlus 2 for $330. Still a great deal, but a tad bit more expensive. And then, the big hit: the $400 OnePlus 3 with its refined design that could finally claim to be the "$400 flagship killer" with some credibility. At the time, the clumsy invitation model was gone and OnePlus became more than a niche company.
The boom of $400 flagships was in 2016
The year was 2016 and others started releasing a staggering amount of flagship-grade phones at the same $400 price: ZTE launched the Axon 7, a similarly well-specced phone for $400. Huawei launched its Honor brand with its hit product: the $400 Honor 8,
an excellent phone for the money
.
Meanwhile, Chinese company Xiaomi kept on releasing top-specced and well-designed phones for under $400 in China and India. The Xiaomi Mi 4 and the Xiaomi Mi 5 were two very popular such phones sold for amazing prices. Another Chinese giant, the Netflix of China, LeEco, entered the U.S. and global market with a bang of $400 flagship-grade phones.
It was the renaissance for great affordable phones
Start-ups like Nextbit with its Robin phone took a chance with a different design, an imaginative cloud-based storage model and more. Motorola launched
the excellent $400 Moto X Pure
.
Even Apple noticed the new trend and launched the $400 iPhone SE, its cheapest iPhone ever.
And then it all suddenly stopped.
Falling from cloud number nine...
More than halfway into 2017, the $400 flagship category is no more.
The poster child of that revolution, OnePlus, has kept growing prices at a quick and steady rate and its latest OnePlus 5, the only phone that it sells, retails for $480, while in Europe and the rest of the world its prices are even higher at €500. It's still good value for the money, but it's nowhere near the deal it was a couple of years, and even one year ago. And it most certainly does not count as a "$400 flagship".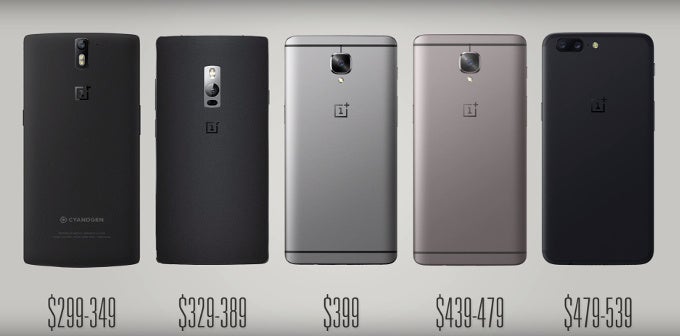 OnePlus, the poster child of the '$400 flagship' movement, keeps raising prices. Image shows price evolution of OnePlus series, from OnePlus One (left) to OnePlus 5 (right). Image courtesy of Rozetked on YouTube.
ZTE never released a successor to the
Axon 7
, the
Honor 8 is getting older
and its successor is not available in the United States, and even the iPhone SE has only gotten more storage this year, but no proper upgrade to a newer chip, camera or other major enhancements.
Nexus phones in their current Pixel reincarnation
cost as much as an iPhone
. And while Xiaomi still sells very affordable phones in Asia, it equips them with an ad-infested OS that has constant pop-ups and ads that ruin a lot of the experience that comes with its premium hardware.
Final words
The cold and brutal realities of business and profits have settled in. The idealistic world of companies that 'never settle' has been dismantled. And while there are more and more great phones sold for very affordable prices, they have neither the hardware, nor the camera or the features of a true flagship.
The $400 flagship craze was great while it lasted, but now it's over.
Recommended Stories