Texas Instruments says OMAP 5 devices on tap for late 2012, early 2013
8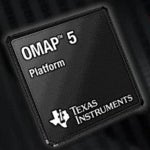 The straight-talking Texans from TI poured a bit of a cold shower to everyone who was expecting the gadget might that will come with their
OMAP 5 Cortex-A15 chip family
later this year.
Texas Instruments's Senior VP Greg Delagi mentioned in an interview that consumer electronics with OMAP 5 will start landing in Q4 this year, but appear en masse in the beginning of 2013. That's precisely the timeframe that
Samsung said its Cortex-A15 Exynos 5250
will follow, so we'll likely be stuck in the Cortex-A9 multicore world until Black Friday time, unless
Qualcomm's S4 homebrew Krait
core can be considered Cortex-A15.
With that out of the way, TI mentioned that Windows 8 tablets will be at first based on its OMAP 4470 chips, and adopt OMAP 5 when its testing time has finished.
TI's added value with the OMAP family is enhanced
gesture recognition
for commanding your device, as well as great DSP engines for photography. Special care is paid to the camera department in OMAP 5, with built-in chips for what TI calls "
computational photography
", using the powerful silicon to compensate for motion blur, camera shake, and bring about enhanced HDR, as well as
real-time face recognition
.
Object and text recognition are also taken to the next level, which should bring along some promising
augmented reality apps
. All that is showcased in the OMAP 5 promo video below, so watch and drool.
source:
Forbes