Samsung Exynos 5250: first dual-core Cortex A15 SoC surfaces on the horizon
36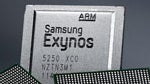 Samsung has just unveiled its new Exynos 5250 system-on-chip arriving on mobile devices in the near future. It's the first to feature
two Cortex-A15 cores
running at 2GHz, and the chip is manufactured using 32nm process. This, Samsung promises, will translate into double the performance of a current Cortex-A9 dual-core SoC clocked at 1.5GHz.
The
Samsung Exynos 5250 also
improves vastly in the graphics department. It pledges to deliver four times the graphical punch of Cortex-A9 APUs, and also adds support for devices with a resolution of 2560x1600 pixels, as well as 3D stereoscopic screens.
The best thing about the Samsung Exynos 5250? We could see it on a Samsung Galaxy S III or IV of sorts or the next Galaxy Tab as it's already sampling and will
ship in volume in the second quarter of 2012
.