Telltale's Batman is finally available for Android!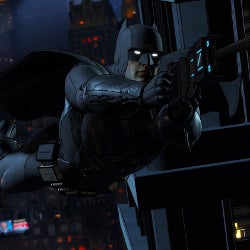 Earlier this year, Telltale Games brought their own style of game-creation to the Batman universe. The studio is famous for creating episodic adventures in the worlds of
The Walking Dead
, Fables (
The Wolf Among Us
),
Game of Thrones
, and others. Its style elevates storytelling over gameplay and the titles feel more like an interactive miniseries than a full-fledged game. Whether you like that type of games or not, it's undeniable that they translate great to mobile platforms.
The Telltale Batman game has been out for PC and consoles for a while now and is up to Episode 3 now. A month ago,
Episode 1 was launched for iOS
and the next two episodes hit it shortly after. Today — the game's finally up for Android! In case you haven't played it on any of the other systems yet, browse the Internet with care for spoilers, as other gamers are ahead.
The title's world and depiction of Batman is separate from any comic, movie, or game that has come out recently. Set a few years after Bruce Wayne started donning the cape and cowl, the story is a fresh take on the early years of the Caped Crusader's adventures. The player will be controlling both Batman and Bruce Wayne and, at times, has the choice to approach a certain situation either in "normal" clothes or as the masked vigilante.
The game will have a total of 5 episodes. In typical TTG style, one episode takes about an hour to complete and some decisions you make throughout will affect minor details throughout the rest of the game. They are priced $5 each, but you can get them at a 20% discount if you buy a 4-piece pack.
The best news? Episode 1 for Android is completely free!