T-Mobile promotes the OnePlus 7 Pro using an Apple iPhone
20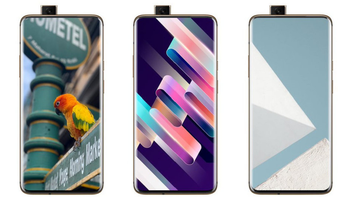 That's the thing about influencers. Sure, they might promote the phone they just received for free, but you don't know if they are really using it as their daily driver. Unless, of course, they screw up.
Spotted by YouTube star Marques Brownlee
(via
AppleInsider
), a tweet sent from a T-Mobile influencer named Kimberly Sandoval was meant to promote the newly released
OnePlus 7 Pro
. Sandoval's tweet reads like a Hallmark card sent to the new T-Mobile exclusive. "I'm CRAZY IN LOVE with my NEW #OnePlus7Pro!!!" she tweets, adding that her favorite part of the new handset is the popup selfie camera (that alone should make enthusiasts cringe).
The tweet, sent last Wednesday, goes on to mention that the OnePlus 7 Pro is available from T-Mobile in San Francisco. Since then, the carrier has expanded distribution throughout its entire retail system and the phone can also be purchased from the carrier online. Sandoval included the hashtag #officiallyswitchedtoandroid and included some selfies that she took at the T-Mobile signature store in San Francisco. But how "official" was her switch to Android? Not very, judging from the metadata on the tweet showing that it was written on an Apple iPhone. Holy mixed signals Batman.
The tweet was eventually removed and reposted without the metadata, and eventually, Sandoval took down her entire Twitter account and replaced it with a new one. Her new Twitter account is "locked" or protected, which means that only people she authorizes can access it.
The same thing happened in reverse to Apple last year in a tweet that was also spotted first by Brownlee. Whoever sent out tweets promoting an Ariana Grande holiday EP for Apple Music
apparently did so using an Android phone
. Yes, Apple does have an Android app for its music streamer, but this is just not a good look for the company. And this past December, the eagle-eyed Brownlee again spotted a discrepancy on a promotional tweet. This time
it was Samsung's Indian unit that committed the faux pas
by sending out a tweet about the ultra-wide camera on the
Galaxy A9
. The content of the message was just fine, but it was composed and shared from an Apple iPhone.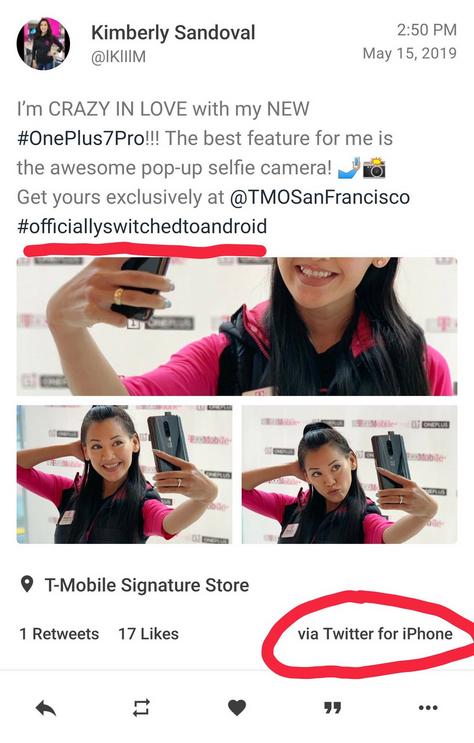 Tweet promoting the OnePlus 7 Pro from an influencer who officially switched to Android was made using an Apple iPhone
The most egregious blunders occur when a strongly worded statement is proved to be a lie almost immediately. For example, Sandoval's hashtag "#officiallyswitchedtoandroid" looks extremely bad when you consider that the words were typed out on an iPhone. And last September,
Bollywood actress Anushka Sharma disseminated a tweet
that included photos of her dog. This was meant to promote the outstanding rear camera on the
Google Pixel 2 XL
. Sharma also declared herself to be on #TeamPixel even though the tweet was sent using an iPhone.
For those promoting a new phone and the manufacturer, the optics do not look good

Now, there could be an innocent reason for these blunders. Perhaps the person actually composing and sending these tweets is an assistant or a third party who happens to embrace a different platform than the one being promoted in the first place. But even if this is the case, the optics do not look good for the person (or company) whose name is on the actual account and the products being promoted.
Here's one final example,
and once again the Pixel is involved
. Back in 2017, KISS bassist and reality television superstar Gene Simmons partnered with Google on a series of cases for Pixel and Nexus models. These "Live Cases" featured a KISS related design and came with matching wallpaper for the phone. So Simmons, ever the consummate businessman, sent out a tweet to promote the new accessory. There was only one problem, which I'm sure you can already guess; the tweet was created and sent using an Apple iPhone.
So here is a word to the wise that every influencer needs to heed. If you're sent a new phone to promote and plan to tweet how great it is and that you're switching platforms, at least use that phone to type out and send that tweet.