Swatch smartwatch to support Android and Windows Phone; device to launch within three months
9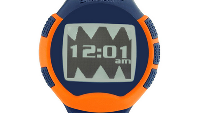 Image at left is the Swatch Paparazzi (circa 2004), an early ancestor of the modern smartwatch. Using radio signals and a subscription to the service, users could get sports scores, stock quotes, horoscopes and news headlines.
Swatch has been working on a smartwatch and plans on going head-to-head against the Apple Watch. The Swiss producer of plastic, colorful timepieces will launch its smartwatch within three months. According to Swatch CEO Nick Hayek, the device will support both the Android and Windows Phone platforms, will communicate using NFC, and will not have to be charged to connect to the internet. It also will offer a mobile payment feature.
The executive
has done a 180 degree turn with his thoughts about smartwatches
. Originally, Hayek thought that they would be too small for communicating, and felt that the batteries would need constant charging. But now the CEO is ready to take part in a business that Citigroup sees hitting $10 billion in annual sales by 2018. In other words, despite the presence of Apple, Samsung, LG and Motorola to name a few, there is room for more producers.
Swatch might be known for its cheap plastic fare, but it also has experience with a touchscreen watch. The company has a brand called Tissot that makes a diver's watch offering a touchscreen that includes an altimeter and a compass. It can also measure how far down a diver has descended.
Ten years ago, the Swatch Paparazzi was released and you might consider it an ancestor of the modern smartwatch. Thanks to a partnership with Microsoft, users could receive information like sports scores, weather, horoscopes and news headlines via radio signals. If you're lucky, you can still find the device offered by closeout websites. While the Paparazzi might have failed, it surely must have helped Swatch learn how to handle data and other content for its upcoming smartwatch.
source:
Bloomberg