Soon you will be controlling your Nest thermostat with Google Now
11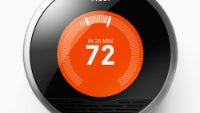 It appears that Google is close to allowing Android and iOS users to control the temperature on their Nest thermostat by using Google Now.
Google acquired Nest in January
, and hopes to allow homeowners to use their smartphones to raise or lower the temperature in their homes. By using Google Now, a verbal command can be said such as, "
Raise the thermostat to 72 degrees
."
Asking Google Now today to "
set Nest to 72 degrees
" will result in a card that says that the the request failed because no thermostat was found. The card also notes that such a command "Works with Nest." And this is where there is a missing link, so to speak, one that will allow you to authorize your Nest thermostat to follow directions from your phone. Right now, if you click on the "Works with Nest" link and follow it up with a click on "Yes I'm in," you are sent to a page that is not yet live.
Considering how far mobile technology has come in the last few years, would it really be much of a surprise to find yourself controlling appliances with your handset? The really cool part of the whole thing would be when your phone calculates how long it will take for you to arrive home, and turns on the thermostat at just the right time. This way, when you turn the key and open the door to your house, the temperature is exactly where you want it to be.
source:
DroidLife