Sony Xperia Z2 lives after being submerged in salt water for 6 weeks
37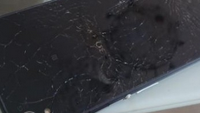 Sony was one of the first smartphone manufacturers to embrace the idea of waterproofing its handsets. We still remember how the
Sony Xperia Z
caught everyone's attention at CES 2013,
with a display that showed off the waterproofing of the phone
. The
Sony Xperia Z2
happens to be certified to withstand a submersion in water to as deep as 5 feet, for as long as 30 minutes. That is fresh water, by the way. Keep that in mind for the rest of this story.
But don't talk about the waterproofing restrictions to one Alexander Maxén from Gothenburg, Sweden. Good old Alex was waterskiing while on vacation, and while this might seem strange for most of us who keep track of our phones every second, he had left his Sony Xperia Z2 on the seat of the boat. So as you might imagine, once the craft started cutting through the waves, the phone fell into Davey Jones' locker. With the sea bed more than 10 meters deep, trying to recover the device was impossible at the time.'
Once they were back on terra firma, Alexander called the phone, which continued to ring, proving that it was still working (otherwise it would have gone directly to voicemail). Six weeks later, a friend of Alexander went scuba diving and retrieved the Xperia Z2. The bottom line? The back glass was shattered and the battery had completely discharged. But the LED indicator did light up when the phone was plugged in. And once recharged, the phone worked perfectly, even making phone calls.
Alexander decided not to repair the external damage, deciding to keep the phone in this state as a reminder of the six weeks that it spent in salt water, 10 meters below the surface. You can take a look at the Sony Xperia Z2 after it was recovered, by clicking on the slideshow below.
source:
Mobil.se
(translated),
Nyheter
(translated) via
XperiaBlog