Sony Xperia Z water resistant dunking test
21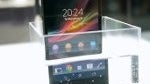 On one hand, most people are going to be astounded the most by the
wicked specs that the Sony Xperia Z is flaunting
. Every bit of a juggernaut, some of us might forget a few other interesting features that it's boasting – such as its
dust and water resistant aspects
. Well, at their booth in the great halls of CES, Sony is making sure to show onlookers how it'll survive a quick dip in water.
Certainly it's not something we tend to see on a showroom floor, Sony set up a simple contraption that basically dips the lower portion of the Xperia Z in a small pool of water. Pressing the button, the machine comes to life and lowers the arm, where the handset is attached to on the end of it, which then places the device briefly in the menacing water. Needless to say, most handsets would incur some serious damage doing this, but seeing that the Xperia Z is
IP57 certified
, the occasional contact with water isn't going to fizzle out this beauty.
Knowing that, it's going to be interesting where people will start using the handset – heck, maybe even the shower at this point? Well, whatever it is, the water resistant aspect of the handset is truly unique that's not commonly found with high-end devices. So if you're ready to see some splashing action, check out the video below!