Sony Xperia XZ Premium hands-on: the return of mobile 4K
14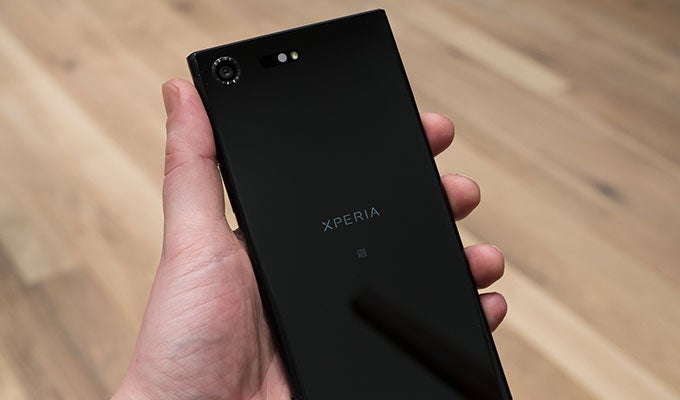 Whether you're a smartphone-manufacturing giant or a lowly internet message-board commenter, there's an undeniable allure to being "FIRST!!" And while we may chastise the latter, we're always on the lookout for the next phone to lead the way with some hot new tech. Sometimes, though, being first doesn't translate directly into success, and certain developments need a little more time in the oven before they're ready to come out, fully baked. After Sony introduced 4K screens to smartphones back in 2015 with the
Xperia Z5 Premium
, the feature failed to re-surface on the company's 2016 lineup. Now with
Sony's new MWC 2017 launches
upon us, it's finally time for 4K to make its triumphant return, as Sony introduces the new Xperia XZ Premium. Let's take a look!
Sleek, Shiny Design (That Loves Fingerprints)
Some phone manufacturers love to go back to the drawing board each year and come up with a fresh new look for their latest phone, one that's all that handset's own. And though Sony certainly comes through with a design for the XZ Premium that's new and refined, it's also one that's unmistakably a Sony phone; you don't have to look twice to recognize this model's lineage.
For the XZ Premium, Sony goes with a layout that adds a touch of smooth contours to the company's reliably boxy layout. At least, while the phone's face is nicely squared-off, gentle circular curves form the handset's side edges, helping to improve the feeling of the XZ Premium in the hand.
Up top we find the unit's analog headphone jack, and the USB Type-C port lies dead center along the phone's bottom edge. On the left there's a typically Sony flap for covering the SIM/microSD slot (while protecting from water ingress), while on the right there's the volume rocker, power button with integrated fingerprint scanner (in non-US markets), and dedicated shutter button. That layout is largely similar to what we saw on
last year's Xperia XZ
, albeit with the volume and power controls swapping spots.
The front, though, is a dead ringer for the XZ, with the same pair of stereo speakers. Around back, flash and sensor orientation has moved from vertical to horizontal, but we're looking at more top-corner camera placement.
Excited For The Return Of 4K (But Still Waiting For A Peek)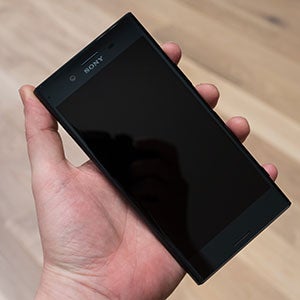 When Sony gave the Xperia Z5 Premium a 4K screen, it didn't take long before it became clear that this feature wasn't quite ready for prime time. Maybe the most obvious sign of that was how the phone didn't run at full resolution except when playing back media; what's the point of having all those pixels if they're not being put to good use?
With the Xperia XZ Premium, Sony makes real progress on correcting that oversight. You still may be playing games at 1080p, but other areas of the system interface have thankfully caught up with the screen's absurd pixel density, letting you enjoy Android 7.1 Nougat in heretofore unappreciated detail.
Sadly, the unit Sony had for us to check out in person wasn't exactly, as you'd say, functional – so we've yet to see this 5.5-inch 4K action in effect for ourselves – but the implementation here sure sounds like a welcome improvement from the days of the Z5 Premium.
Sony Scores Win With Qualcomm's Newest Flagship SoC
For a phone pushing such an eye-melting number of pixels, it's comforting to see that Sony's pulled no punches in equipping the Xperia XZ Premium with the fastest new processor around, Qualcomm's Snapdragon 835. Complete with a new Adreno 540 GPU, that represents a big step forward from the days when the Xperia Z5 arrived powered by its Snapdragon 810/Adreno 430, and while we've yet to actually try out this hardware in operation first-hand, it's not difficult to see how those advancements in silicon could help Sony's latest 4K smartphone take much better advantage of its insanely high-res screen.
Beyond the processing heft under the hood, we've also got Google's latest mobile operating system to look forward to, with the Xperia XZ Premium slated to land running Android 7.1 Nougat. While Sony's skinning doesn't appear to have evolved that much, the evolution of Android itself should definitely help improve the usefulness of a 4K screen; for instance, when the Z5 Premium came out, Android didn't even support taking screen shots at full resolution.

Slow-Mo So Slow It Might As Well Be A "Pause" Button On Reality
Just like other manufacturers have done before, Sony's backing down in terms of raw megapixels for its latest flagship hardware, putting the focus instead on image quality. With the Z5 Premium, that means
a new 19MP Motion Eye sensor
that may have fewer total pixels than its 23MP forefathers, but with both larger individual pixels this time around, as well as integrated memory that allows for
some incredibly high-framerate slow-mo action
, this sounds very much like a step in the right direction.
We also see the return of Sony's five-axis stabilization, with the aim of reducing blur during shots in all variety of filming conditions, an anti-distortion shutter for sharper capture of moving objects, and predictive capture that helps you avoid missing critical moments by automatically grabbing images as soon as your subject starts moving.
While we weren't able to see this camera hardware in action on the XZ Premium, the XZs enjoys the same imaging setup, giving us an early taste of what to expect.
Good-Sized Phablet-Class Battery - But Is It Big Enough?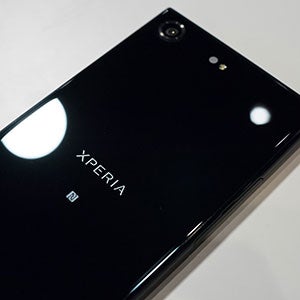 With large-screen phones, all expectations are already tuned to be looking for relatively large batteries – and on a phone like the Xperia XZ Premium, something north of 3,500mAh would fit that bill. But instead, Sony's elected to go with a slightly more conservative 3,230mAh figure, one that threatens to cause some alarm, especially with this high-resolution screen.
Instead, Sony's emphasis here is much more on optimization and stretching that battery capacity as far as it can go. That takes the form of the Qnovo Adaptive Charging tech that intelligently charges your battery to extend its usable lifespan, as well as looking at how you use your apps (and when) in order to make suggestions about when the phone's stamina mode should be taken advantage of to minimize power consumption.
Another significant component of the XZ Premium's power draw is the presence of Qualcomm's new Snapdragon 835 chip, one that claims to represent a 25% improvement in power requirements than previous chips. Just whether or not this all adds up to a solution that's really superior to a larger battery remains to be seen.
Expectations
Sony phones, especially when we're looking at the higher end of the handset spectrum, have been a little hit-and-miss in recent years; the Xperia X Performance, for instance, was a notable disappointment. But with the Xperia XZ Premium, it feels like Sony could be hitting a lot of the right points: extreme processing power, sexy new camera tech, and one of the highest-res screens you'll find anywhere.
Of course, it's easy to throw a lot of new hardware at the wall hoping it will stick, but if the recipe's not balanced just right, you could still easily end up with something that feels like a work-in-progress rather than the sort of really polished handset you'd feel good about using everyday.
Will Sony reach that goal with the XZ Premium? We've still got a few months to go before the hardware's available commercially, and hopefully we'll get to spend some time with the handset (in fully-functional form, no less) before then. For the moment, though, we're cautiously optimistic.