Snapchat continues to seek ideas for monetizing the app
4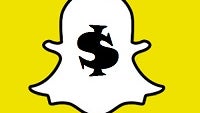 We all know what Snapchat does, taking video and text messages, and doing the old Mission Impossible self-destructing routine to destroy them after ten seconds. Snapchat has been the subject of some pretty big, rumored bids. So far, it has turned them all down, including
a rumored $4 billion offer from Google
. One problem that a suitor for Snapchat might have, is trying to figure out how to make back the money spent for the messaging app. So far, there have been some half-assed attempts at monetizing Snapchat. That includes
the tepid response to living timeline "Our Story."
According to a report published on Tuesday, Snapchat is in talks with media companies, content providers and news organizations about a service to be called
Snapchat Discovery
. All of the media and advertisements involved would be shown to Snapchat subscribers, and would disappear in the same manner as personal messages do. According to one source, a dozen media players have shown interest in the service, which is scheduled to debut this November. While there have been companies like Taco Bell that use Snapchat for promotions, Snapchat Discovery would be the first service that would require corporations to pay Snapchat to promote their products inside the app. Other messaging apps sell stickers of famous characters, or offer users the chance to pay to play video games inside their app. These solutions don't fit the Snapchat business model, which includes the disappearing content..
Turning down the Google bid, and
a rumored $3 billion bid from Facebook
, Snapchat has decided to raise money the old-fashioned way, through financing rounds conducted at higher and higher valuations. Recently, an investment in the company at a valuation of $10 billion was rejected by an investor.
According to Snapchat, 27 million iOS and Android flavored smartphone users employed Snapchat in June. That was up from 11 million such users, the year before. Whether the demographics are what advertisers are craving for is another matter. Half of Snapchat's subscribers are between 13 years of age and 17. That might be a tad too young for most corporations. The average Snapchat user checks his account 14 times a day. 500 million "snaps," or disappearing messages, are sent daily.
Snapchat is dying to show that it didn't make a mistake in turning down $3 billion or $4 billion for the company. But if this proof doesn't come soon in the form of a strong monetizing scheme, texts and video might not be the only thing about Snapchat that disappears.
source:
WSJ