Should you rush to buy Sprint stock now?
21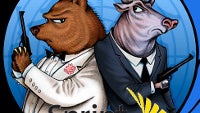 Sprint has been
in the red in the last 15 consecutive quarters
having to deal with the heavy luggage of Nextel and throughout that period uncertainty and a general bearish trend prevailed. Its shares have also dipped to their lowest level in the last almost two years. But while the future is not yet clear, there are a couple of factors that could either elevate or bring the carrier and its shares down.
Today's latest scoop about a Sprint-bound iPhone is the first such factor and it's what tipped it for us - while it's far from certain and nowhere near official it seems that the carrier run by Dan Hesse is finally
about to get the iPhone 5
. Secondly, the probable failure of the AT&T's acquisition of T-Mobile might push Sprint stock up. Third and final is the carrier's move to 4G LTE and an undergoing improvement of its network infrastructure.
Do those mark the perfect time to go all bullish and start investing in Sprint shares? And why could Sprint be a turnaround stock?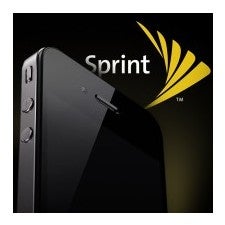 1. Sprint iPhone
The single biggest factor seems to be... the Apple iPhone. One might argue that the carrier has the dual-core Motorola PHOTON 4G and enough Android phones in its lineup, and the iPhone won't make a difference. After all Sprint is expected to be the first US carrier getting the very successful Samsung Galaxy S II rebranded as the Samsung Epic 4G Touch. But it's the operator's own words that tacitly admit that
without the iPhone, Sprint is at a competitive disadvantage
, something that stroke us as the carrier underlined it in one of the
arguments against the AT&T-Mobile merger
. It could also be the perfect tool to heal Sprint's bleeding post-paid subscriptions.
If the Apple device is such a gamechanger, it will certainly affect Sprint's stock. There's an increasing amount of evidence pointing to a
Sprint-bound iPhone coming soon
- starting with
reports by the Wall Street Journal
, continuing with Bloomberg confirming that a
iPhone deal between Sprint and Cupertino
has already been inked and ending with policy changes possibly signaling the arrival of the handset - early termination fees are getting hiked September 9th and some users have reported that their early upgrade option has been moved earlier to October, the date when the next-gen iPhone is rumored to roll out.
2. AT&T's T-Mobile acquisition
The second big factor is
AT&T's planned $39 billion acquisition of T-Mobile
. Most analysts and Sprint itself agree that it will deal a major blow to Sprint, leaving it in a mobile duopoly in which the carrier won't be able to compete. Its 52 million subscribers would be dwarfed by a combined number of 132 million for the possible AT&T-Mobile behemoth and Verizon's 106 million.
In the last month or so Sprint's shares have gone up and down, but generally hovered around an average of nearly $3.50, with the biggest push coming after the US Department of Justice filed a lawsuit to block the AT&T-T-Mobile merger over possible anti-competitive consequences of the deal. The Federal Communications Committee backed up the filing and recently the Now Network has added fuel to the fire and is also
suing AT&T
. The battle for Sprint is not finished yet, though, as AT&T will fiercely fight it on every possible level, but it seems that AT&T is in a less favorable position now.
3. Sprint's network and financials
The third factor is a compound of elements focusing around the carrier's own performance and that's where
Sprint disappointed analysts in its last quarter results
. The carrier suffered heavy losses in post-paid subscribers and its aggressive pricing didn't yield the expected results as profit margins fell. The carrier is undergoing an expensive network overhaul and in the third quarter, customer defections are expected to continue. These are some big concerns in the short term, which don't draw optimism at all.
Nonetheless, it seems that the vector of Sprint's intentions points in the
right direction in the long term
. First of all, Sprint has finally announced a move from WiMAX to LTE as its future 4G technology with a big announcement planned for October. Second of all, the carrier has dealt with a big chunk of its heavy Nextel legacy. Sprint has also solidified its network coverage, so it won't have to rely on roaming deals with other carriers that much. This is a move which is aimed at improving the elusive high profit margins.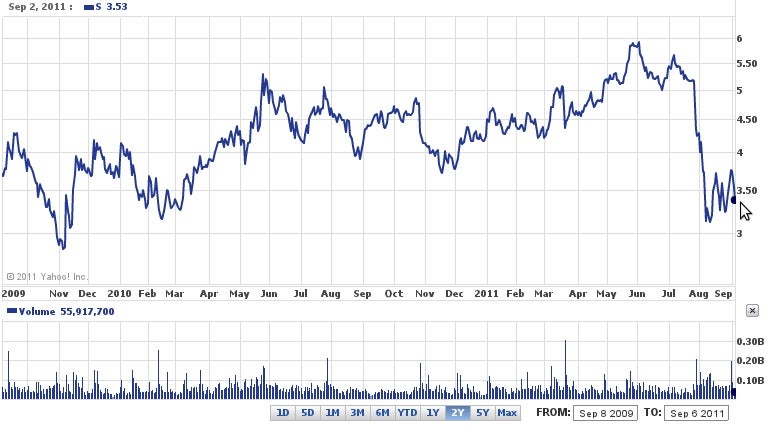 Sprint's Q2 results collapsed its share price at the end of July
Finally, analysts have been complaining that Sprint's declining short term health hasn't been addressed, but could it be that it's Apple secrecy that covers a silver iPhone bullet for Sprint? A couple of investment advisers have upped their view on the carrier's outlook in the last month, but the carrier's weak financials don't allow a unanimous "buy" recommendation. So while that doesn't answer whether you should rush to buy Sprint shares now, it does give some food for thought, doesn't it?
This article focuses on analysis and does not provide investment advice nor recommendations to buy or sell shares.