Should Verizon, Sprint and AT&T be afraid of T-Mobile?
79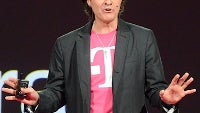 With a number of industry leading innovations, T-Mobile has not only become the carrier to watch in the U.S., it is actually taking market share away from the other three major stateside operators. According to the average estimate from seven analysts, T-Mobile will report the addition of 444,000 net new subscribers in their next earnings report due to be released November 5th.
Compare T-Mobile's estimated net additions to the 363,000 that
AT&T recently reported
. And if it weren't for tablets, the carrier would have lost subscribers in the period. Most likely T-Mobile took business away from Verizon and Sprint along with AT&T. T-Mobile has led the way with the
elimination of subsidized equipment purchases
, allowing
earlier phone upgrades for certain customers
and
the removal of international roaming charges
. Last week, the nation's fourth largest carrier announced that it would
give away 200MB of data each month free to its customers with tablets
that have cellular connectivity. Not only might this have an affect on tablet-heavy AT&T, the free data for tablet owners could also hurt Verizon. About 40% of Verizon's 927,000 net new additions in the third quarter are said to have been tablet users.
In its last quarterly report, T-Mobile reported that its churn figure, which represents the percentage of customers leaving the carrier, was 1.58%. That is down from the 2.1% churn rate reported the previous year. Besides the changes that T-Mobile has made, the operator
finally added the Apple iPhone to its lineup
earlier this year. Now what T-Mobile needs, according to some analysts, is a way to attract family plan users. Such subscribers are believed to make up 90% of AT&T's customer list.
T-Mobile also has a dynamic CEO in John Legere, who has been compared to a rock star with his casual attire and longish hair. Legere says his mind, going as far as
calling AT&T's network "crap"
at this year's CES, and is a refreshing change to the usual pinstriped, buttoned down, uptight CEO. He is obviously the right person to lead the carrier as it starts its ascension to a loftier place among the four major U.S. mobile operators. Should the other carriers be concerned about this upstart? Joe Pasqualichio, an analyst at Eaton Vance, says of T-Mobile, "
they're clearly having an impact
." he said
source:
Reuters