Samsung under pressure from low-priced Chinese manufacturers to keep smartphone crown
17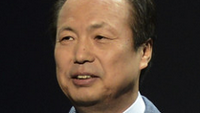 For the first time in four years,
Samsung actually lost market share in the global smartphone market during the first quarter
. From January through March, Samsung controlled 31.2% of the world-wide smartphone market, compared to 32.4% during the same time last year. Part of the reason for the decline in Sammy's market share had to do with tough competition from Chinese manufacturers selling lower priced Android models. With Samsung's market share high in the low growth areas of the developed markets, Shin says that the company needs to push hard in emerging markets like Africa.
Considering that profits from smartphones account for 70% of Samsung's operating profits, the pressure is on J.K. Shin, head of Samsung Mobile, to turn things around. Shin plans on focusing on wearables, and selling mobile devices to the enterprise, in an effort to get Samsung Mobile moving again. Shin argues that despite what the public is saying about the lack of innovation on the
Samsung Galaxy S5
, Sammy's new flagship model is the only water resistance handset with a removable back cover. Shin also pointed out that Samsung's power saving mode was made possible thanks to the company's OLED display, which does not require the use of an additional backlight.
Asked about how the new phone is doing in the U.S., the executive notes that the new flagship is outpacing last year's model. Shin did note the popularity of the Apple iPhone in the U.S., but says that Samsung's market share in the states is high and on the rise. He also might have given away a little information about the rumored flexible screen for the
Samsung Galaxy Note 4
. When asked how he sees smartphones evolving, he says that
flexible screens are one way to innovate
.
Another way to turn things around would be to give the public what it wants. With rumors that a "premium"
Samsung Galaxy S5 Prime
is on the way, with a 5.2 inch 1440 x 2560 QHD resolution screen, and an aluminum body, Samsung could be ready to recapture the market share it lost in the first quarter. While Shin didn't mention the Galaxy S5 Prime, he does see more health related metrics being measured by smartphones, beyond heart rate. One health related sensor that could be warmly received, would be one that could measure blood glucose readings for diabetics, without having to prick a finger for each reading. Samsung is
holding an event on May 28th that is expected to reveal some new health-related sensors
for Samsung devices.
source:
WSJ