Samsung loses global smartphone market share in the first quarter of 2014
52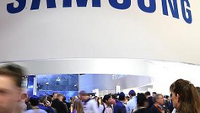 Research firm Strategy Analytics released its latest global market share figures on Tuesday. On top remained Samsung, with 31.2% of the world-wide smartphone market at the end of the first quarter. That figure is down from the 32.4% that Sammy earned last year. Behind the Korean based Samsung for the January through March period, was Apple. The iPhone manufacturer saw its Q1 market share decline from 17.5% last year to 15.3% this year. Strategy Analytics estimated that Sammy shipped 89 million smartphones in the quarter, versus the 43.7 million iPhone units sold by Apple during the same time period (Yes, because of the difference in what metrics are reported by each company, we have to compare shipments with sales).
Market share numbers drop sharply after Apple and Samsung. In third is Huawei. The Chinese manufacturer was flat in the quarter, with a 4.7% share of the global smartphone market. That happened to tie Lenovo, which saw its share rise from 3.9% to 4.7%. That figure could continue to rise
once Lenovo closes on its purchase of Motorola
from Google. In the
others
category, a collection of smartphone manufacturers combined for 44.1% of the world-wide smartphone market, up from the 41.5% they owned a year ago.
In the tablet market, Android powered slates are kicking butt and taking names. Tablets powered by Google's open source OS controlled 65.8% of the global tablet market in the first quarter, up from 53% last year. During the same time period, iPad tablets saw its market share decline from 40.3% to 28.4%. Windows powered slates stayed flat at 5.8%.
For years, the iPad controlled a category of device it created. But Android is now available on a wide selection of tablets. And with Android the most popular mobile OS, consumers are knowledgeable about the OS and want to continue using it on their slabs.
source:
StrategyAnalytics
,
WSJ