Samsung's bendable Infinity Flex display is here, ready for its foldable phone release
46
It's been more than five years since we first wrote about Samsung's secret work on bendable display technologies that would bring foldable handsets to their logical endgame of a
phone-to-tablet device
. Since then, we've written hundreds of articles dedicated on this unicorn of a device that proved harder to master than anyone, including Samsung, thought. Each
CES show
the foldable phone was near ready for release, and was allegedly
shown to select few
lucky souls from carriers and the industry. Heck, as far back as 2013 a Korean analyst was saying the following:
The first one they showed us was the size of an S III smartphone which can be folded in half from top to bottom. So like a compact powder used by women. There was also one in the size of a lengthy wallet which can be unfolded on both sides into the size of a tablet computer.

This Samsung research from 2011 shows a bendy part that flexed 100,000 times without image degradation
Well, we are happy to announce that Samsung's chief just got on the stage for a keynote at its Developer Conference in Moscone Center in San Francisco, and finally ushered in the new era of mobile devices - those that fold in half to fit in a pocket or purse, and unfurl to become a large screen when you need it - with no hinges attached.
There is a good reason that Samsung is detailing its first foldable device at a dev conference which is usually associated with boring stuff like app workshops. Samsung may have mastered the hardware, but the interface of this unique form factor will be what makes or breaks it. The bendable phone's formidable task is to prove its usefulness above all else, or it will stay as a cool and niche design at unreachable price point.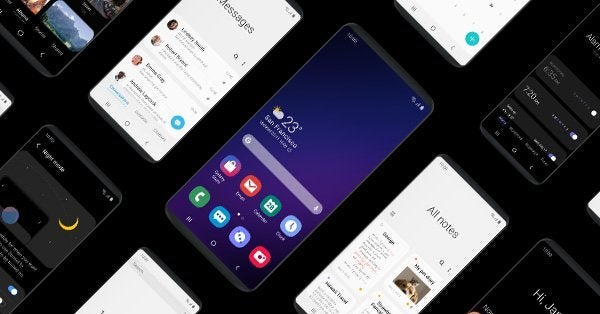 Samsung's new One UI bottom-half interface is created with foldables in mind, soon in beta for your Galaxy S9 or Note 9
Samsung Infinity Flex display phone design and specs

As expected, the phone will be of the in-folding type that is easier to produce and more practical for now. That means the handset will fold from top to bottom with the big screen left inside. What if you need a display for a quick glance at something when you don't need the big one for consuming media or browsing? Why, a second display, of course, situated on the outside, but with smaller dimensions. If that sounds like a Motorola flip from the early cell phone days, it's because that's a similar concept. Sans the hinge!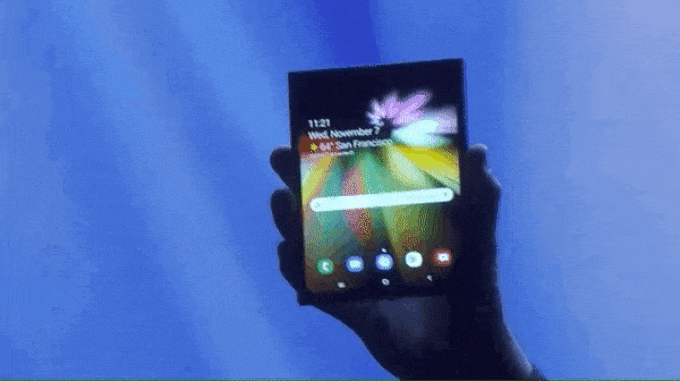 Yep, the display sort of loops in a tiny semi-circle in the middle, while a corrugated part on the opposite side should extend to help close the phone shut seamlessly. Here comes the biggest advantage of such a design compared to today's "all-screen" phone designs, be they notch-y, slide-y or with trimmed bezels - the Infinity Flex Display will take about half the space when shut. Granted, the phone will become thicker but many of our polls show that people prefer chubbier gear if that means extra features.

On stage, Samsung mentioned that it has managed to develop a very thin Flex panel with brand new polarizer, cover layer and substrates, so even when closed, the final handset should be able to stay acceptably thin. Just slip it in the pocket and go, then unfurl when you need the large, 7.3" main display.

One UI interface for foldables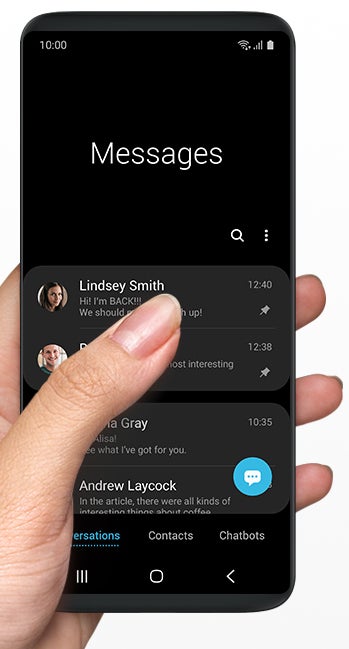 The Infinity Flex Display together with Samsung's brand new
One UI
delivers a new kind of interface navigation are destined to let users do new, previously impossible with their smartphone actions.
Samsung calls this the best of both worlds: "a compact smartphone that unfolds to reveal a larger immersive display for multitasking and viewing content." The app experience seamlessly transitions from the smaller display to the larger display as the device unfolds. In addition, users can browse, watch, connect and multitask without losing a beat, simultaneously using three active apps on the larger display.
We are glad to report that Samsung seems to be on the right track with the new One UI which lets you run up to three apps in a new Multi-active Window concept. Open the phone, and the three apps inside will be right where you left them, while another one can be displayed on the outside display.


Samsung foldable phone with Infinity Flex display price and release date
You'd have to wait until early next year, most likely at the MWC expo in February to take a good look at a finished device with Infinity Flex, and pricing is still up in the air, but the bendy screens will be in mass production "in the coming months."

Knowing that we only have to survive through the holidays before the future of mobile is here, is nothing compared to those excruciating five years that Samsung has been teasing us with that foldable unicorn.