Samsung can't catch up with demand for the Samsung Galaxy S5 Alpha?
57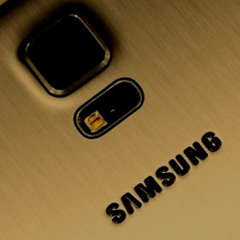 When the
Samsung Galaxy S5
was
released during MWC 2014, disappointment was felt throughout the smartphone world
. What happened to the 1440 x 2560 resolution screen? And once again, the device was made from plastic. But Samsung decided that it could take on the upcoming
Apple iPhone 6
by offering an updated version of its flagship model with a QHD display, and a metal casing.
First rumored to be the
Samsung Galaxy S5 Prime
, then the
Samsung Galaxy S5 F
, the updated version of the Galaxy S5 is now believed to be called the Samsung Galaxy S5 Alpha. And while it sounds great, there is a problem. Samsung's suppliers are said to be falling short. The manufacturer's Chinese vendors can deliver 1 million Galaxy Alpha handsets a month, according to one report. That could be far less than demand for the phone.
For example, at 1 million units a month for the last three months of the year, Samsung could have 3 million units of the Galaxy Alpha ready to be shipped by the end of the year. But demand for the model is estimated to be as high as 12 million units for the same time period, leaving a huge gap in supply. The manufacturer does have a choice. It could decide to keep the supply-demand graph skewed toward demand, or it could find another source of supply. Considering that Samsung can't afford to disappoint its fans again, we'd expect the company to find some new sources, and quickly.
Even if Samsung does balance supply and demand, recent talk has Samsung really trying to match the iPhone 6 with the Galaxy S5 Alpha. Instead of a 5+ inch screen, the latest talk is that the screen on
Sammy's device will copy the 4.7 inch screen on the iPhone 6 in size
. And a screen that size with a QHD display, would be like shooting a mosquito with a howitzer. If the Samsung Galaxy S5 Alpha were to merely match the iPhone 6 with a 4.7 inch screen, and come to market with a resolution of 1080 x 1920, we're not sure that Samsung fans would feel satisfied.
source:
VR-Zone
via
UDN
(translated),
DailyMobile.net