Samsung: Note 7 recall investigation isn't limited to batteries, blame to be assigned later
10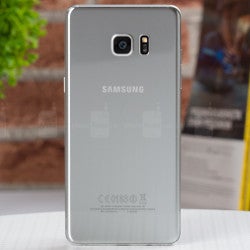 Samsung is determined to get to the bottom of the
Note 7 mishaps
, it seems, and will take its sweet time to understand exactly what is the mysterious reason, or combination of reasons, that evaded its quality assurance tests to force a double recall on the curved handset.
Samsung had apparently already swapped 1.47 million
Galaxy Note 7
s for ones with "safe" battery packs, but after obtaining 90 phablets out of 119 reported incidents of fire, found out that in 55 of those the culprit was the battery, and 19 more cases still being investigated, so it decided to pull the new Note 7 units as well.
The company said that its investigation won't be limited to the manufacturing process of the batteries only, as it was the first time around, but will spread to other hardware like the voltage controller, the software managing it, and the assembly - in short, any constellation of factors that might have caused the tested handset to enter a thermal runaway state.
To do this, Samsung is not only working with various regulators that have experience with product recalls, both in the US, and in Korea, but it is also bringing in independent experts as fresh sets of eyes that might have more luck in pinpointing the problem, and help to avoid it in the future. It seems that Samsung won't even be trying to assign blame or fire people for the incident, at least for now. The chief exec Kwon Oh-hyun has mentioned during the press conference with shareholder that they will be deciding what to do with the people responsible for the fiasco after it's become perfectly clear what happened.