Samsung Galaxy S8 vs Apple iPhone 7: best of the best
72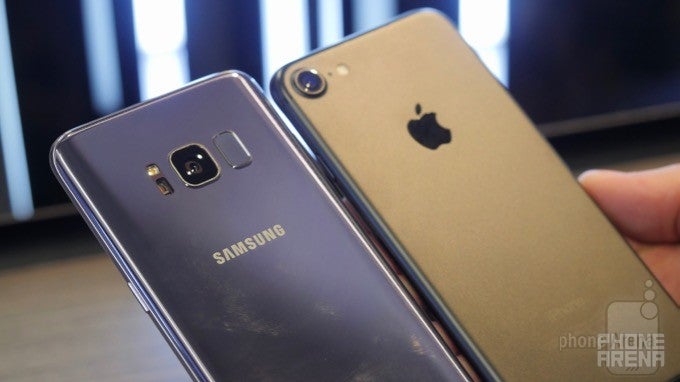 Did you know we have an extremely convenient
Rivals
tab within our specs pages? For example, if you check out the
Galaxy S8 specs
page, the second tab on the top is
Rivals
. This page ranks all the biggest Galaxy S8 rivals based on the number of times our readers have compared it with other models. Going into this comparison, I honestly expected the
iPhone 7
, Apple's current top mainstream phone, to be if not the first (biggest rival), then maybe the second one there.
It turns out, at least for the time being, fans of Samsung's latest and greatest are most interested in figuring out how the S8 stacks up against the other top Galaxies out there, like the Samsung S7 and S7 edge, and only then proceed to pit it against the Apple iPhone 7. Not to be mistaken, there's still an obvious, gigantic interest in such a comparison, as fans of either brand are curious to find out all the ways these two handsets can best each other. Beyond the specs sheet comparison, however, there are other details that can only be experienced first hand. Things may seem a certain way when you're looking at pictures, but perceptions can change when you finally have the actual devices in your hands. This is the kind of value we can offer you right now with this comparison: as we've had the rare opportunity to personally play with both smartphones, we're in good position to share some useful insight, with regards to the feel and quality of the hardware, as well as the software on these phones.
The bezel-less Galaxy S8 looks superb, but we wouldn't call the iPhone 7's styling "last-year"
It appears we're going to see a lot of this so-called bezel-less design trend this year, or, as Samsung likes to call it – infinity screen! It is generally believed that after LG and Samsung, Apple is also going to adopt a similar design style later this year with the iPhone 8. However, where does all this leave our current handsets, like the iPhone 7, with their chunkier top and bottom bezels? There's no argument that there's indeed something futuristic about an-all screen phone like the Galaxy S8, and we can definitely see the iPhone 7 benefiting a little from a slight bezel reduction, but should we really remove all the frame and switch to a much taller screen? In terms of aesthetics, such a decision feels mostly arbitrary at this point. Removing all of the bezel is a bit like removing the face – with even less space for artistic expression, how are we going to tell phones apart, if all they end up being on the front is just a big screen, wth no home button or other details.
And even subjectively, looking at the Galaxy S8 and iPhone 7 doesn't feel like standing at the crossroads between past and future. Both handsets look modern and stylish. The Galaxy's design has mostly benefited from the more minimal design, but all details found on the iPhone 7's body look especially well considered and positioned, that it's hard to imagine it being put together in any different way.
The biggest and most important difference between the exteriors of the Galaxy S8 and iPhone 7 is in the materials used. The new Galaxy's back panel is again glass, while the metal frame surrounding the phone has been polished, so it too now reflects the environment in a shiny and eye-catchy way, plus, just like the glass, it sticks to your hands, making it very hard to drop the phone. In contrast, all variants of the iPhone 7, except one, are made of metal with a matte finish, which is record-breaking in its ability to slip out of your hands (if you're not using a case). Only the Jet Black version, which is still metal, has a very polished finish, which sticks to the fingers like glass, and gives the phone a smooth and shiny look. It's similar in nature to the polished metal frame of the S8.
What the extra-tall Galaxy S8 screen means
Here's a small revelation: the Galaxy S8 screen doesn't really have a very 'large' display. It's not 5.8" big. Technically, it is, but due to the taller screen aspect ratio, which is now 9:18.5, extended from 9:16, the screen hasn't grown horizontally, only vertically. Plus, with the side edges being slightly curved backwards, as on previous Samsung 'edge' models, the Galaxy S8 almost feels on the small side. It's quite a narrow smartphone, with a screen that holds the promise to improve user experience, but does it succeed? We'd say it's too early for any grand conclusions; while we did play around with the S8 for half an hour or so, the potential benefits of the taller screen will probably start unfolding as we get to use it as a daily driver. For now, we can see it as helpful for stuff like showing more of a web page when browsing, or more of a Facebook feed, or more text when reading a book – scenarios that benefit from vertical space. This 5.8" screen on the Galaxy S8 doesn't make things bigger — they are probably around the size of things in a 5" phone — but it does mean that you can fit more at the same time.
As for the iPhone 7, things will look about as big on its 4.7" screen, and it's just what it is: a 9:16 panel where most video and other media will fit perfectly (no black bars), including games, and while it isn't as tall, we feel it's already tall enough. We'd definitely like to see the diagonal grow a little, but maybe by somewhere around .2 inches, retaining the 9:16 ratio for content. A useful function area or something of the sort may find place outside of that 9:16 main panel, but for most content, we don't see a pressing need for a taller (wider) aspect ratio.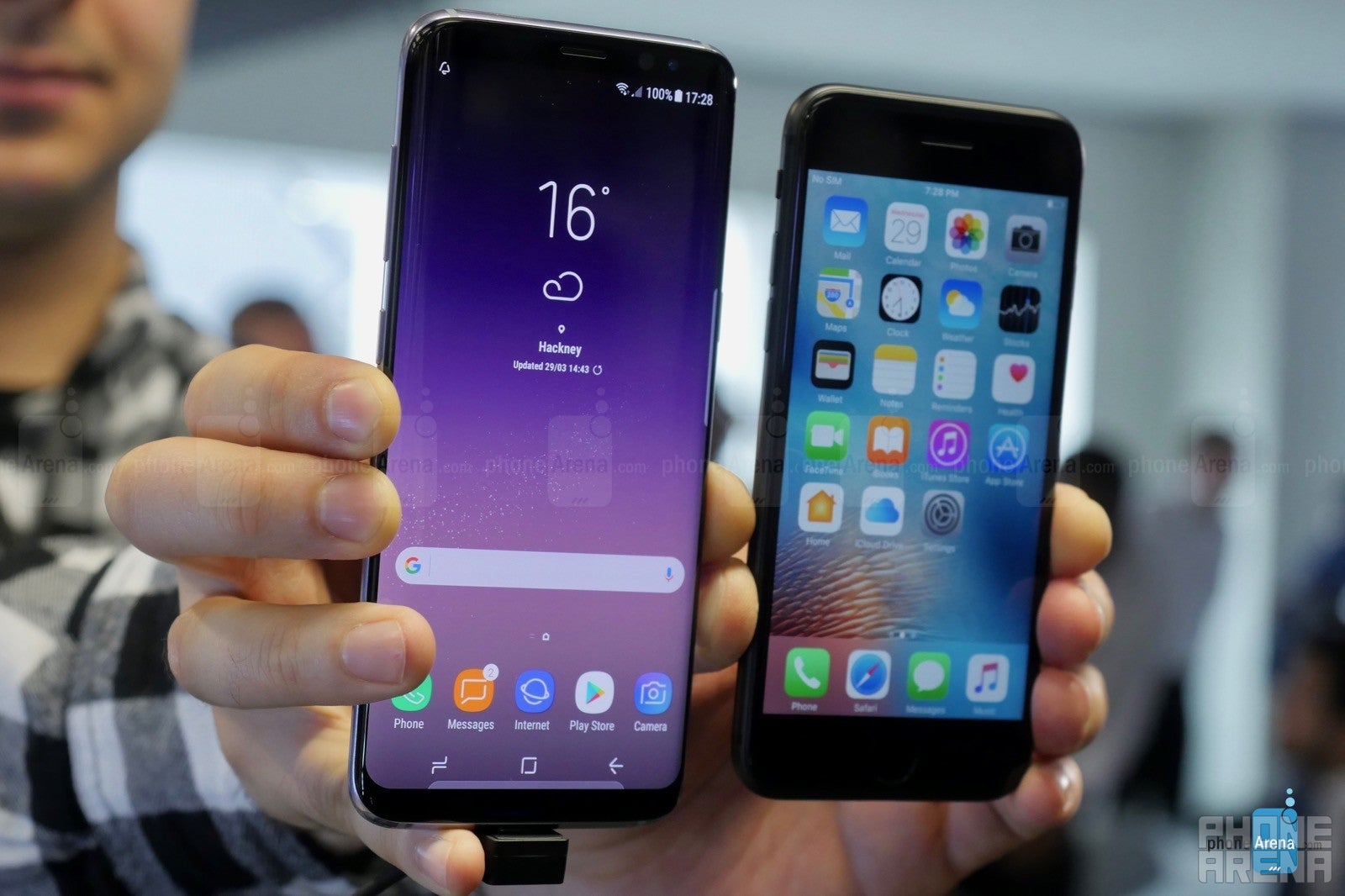 Performance, performance, performance!
We simply love the speediness and response we see on both handsets. With the upgraded software UI on the Galaxy S8, the nasty jitteriness when swiping around is gone, and actions are executed swiftly and fluidly, with no delays or inconsistencies, at least these are our initial impressions. We can't say if one's faster than the other yet – but surely neither is slow. As you know, the iPhone 7 is powered by the A10 Fusion chipset, built on 16 nm process. In terms of processing power, it's proven to be an amazing achievement, but we're curious to see more of the Galaxy S8's processors, because those are the first 10 nm ones! Both the Snapdragon 835 variant and the Exynos 8895 are built on this new technology, which should supposedly allow for better power efficiency. Naturally, we'll need to do a lot more testing before we can talk about the battery longevity of this phone.
World-class performance with both phones is guaranteed!
For graphics, the Samsung Galaxy S8 has the Adreno 540 with the SD 835 chip, and the Mali-G71 MP20 GPU with the Exynos 8895. We're sure these will give it more than enough horse power to run every everything smoothly, even despite the high screen resolution. The same goes for the PowerVR GPU in the iPhone 7, which some have claimed is the same as in the iPhone 6s. How can it be the same when Apple says it's gotten faster, we don't know, maybe they've just managed to get it working at a higher clock speed. Either way, it's proven to be incredibly powerful, and we have a feeling it'll continue to provide flawless gaming experience even in the next couple of years.
Cameras: basically the S7 vs the iPhone 7 all over again
Looking to compare the Galaxy S8's 12 MP shooter versus the iPhone 7? It's your lucky day, as we've already produced a
quick camera comparison featuring both of these guys, and more
! From the looks of it, Samsung has made some changed in the way images are processed, because we see some slight differences between the S8 and S7 photos. Most notably, pics from the Galaxy S8 seem to come out ever so slightly warmer and more detailed, but for the most part, the camera is basically the same. This means it's still lightning fast and particularly adept at low-light photography. The iPhone 7 often can't quite match the S8/S7's low-light or nighttime performance, but otherwise it's pretty comparable in other, more light-abundant situations. For a more detailed comparison, be sure to check out any of our latest grand smartphone camera comparisons:
What will happen on April 21
The Galaxy S8 will be released in the US, that's what. But if we try to look a bit deeper into the significance of this event, we'll see it's going to have quite the consequence for the entirety of the mobile market. The Galaxy has managed to be the only Android smartphone with a desirability factor dialed to 11, meaning people actually fancy it, and buy it for its overall excellence and visual appeal, not just for the fact it'll run their Facebook and messaging. The Galaxy is the Android iPhone, and this year's lineup is even stronger than last year's, with a considerably improved design (in a number of likable colors), the same extensive range of features, better software experience, and one other great benefit: reaching the market about 5 months earlier than the iPhone 8. As such, it's first next-gen smartphone of this year worth buying.
Where does this leave the iPhone 7? Well, it'll have the difficult task of holding its ground against the GS8 until the iPhone 8 arrives. For now, the iPhone 7 has enough class left to still attract immense numbers of buyers, but with the GS8 around, we can imagine consumers will gradually start getting hungry for something fresher from Apple's camp. The iPhone is long overdue for an exterior overhaul, and while the iPhone 7's Jet Black edition was a nice small refresh, we want more. For many iPhone users, it'll still be hard enough to jump ship and switch platforms, but if you're undecided and have no loyalty lying with any of the two operating systems, the Galaxy S8 now offers you the option to join Android through an exquisite device that's both high-tech and desirable.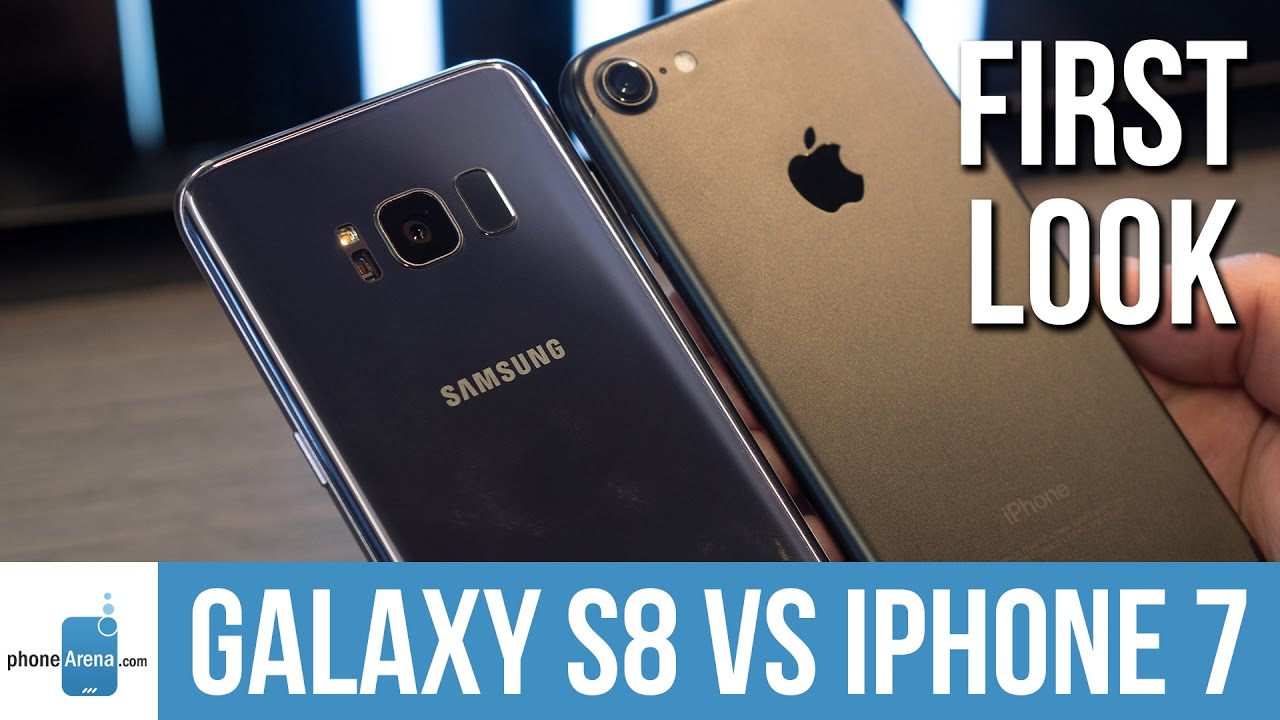 Recommended Stories