The stunning difference between 120Hz and 60Hz displays: Galaxy S20 vs S10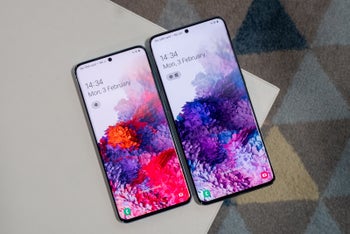 The Samsung
Galaxy S20
-series which was announced less than a week ago is the hottest new commodity on the smartphone market and it's not even officially on the shelves just yet, and one of its characteristic features is the high-refresh rate display.
And don't let anyone fool you — high-refresh displays are the future. As smartphones become more and more powerful with every chipset generation, there's little phone manufacturers could do to further increase the perceived snappiness of a phone. One way to do that is to show you more content for the same amount of time, which is a pretty rudimentary explanation of what refresh rate is.
In a more technical side of things, refresh rate is the number of times a display refreshes itself. More than 99% of all smartphones use a traditional 60Hz refresh rate, and therefore update 60 times every second. That's a strictly hardware characteristic that shouldn't be mistaken with frame rate, which measures how many times new frames with data can be fed every second.
Why is the Samsung Galaxy S20-series display so smooth?
The reason for the greater perceived smoothness of the
Galaxy S20
,
S20 Plus
, and
S20 Ultra
displays is the high-refresh rate of their Dynamic AMOLED displays. While your older Galaxy and just about any other phone out there uses a more traditional 60Hz refresh rate, the Galaxy S20 series and a couple of other Android phones out there double on that to achieve a much smoother user experience. Once you go 120Hz, you will find it hard to go back to the days of 60Hz displays.
Surely, there are some 'caveats' to this smooth new refresh rate mode. For one, you can only use it in FHD+ or lower resolution, and you can't enable it on the native QHD+ resolution, which might be a manageable trade-off for some, but not for others. Another shortcoming of 120Hz is the greater power draw, which would affect the overall battery endurance, but it remains to be seen by what extent exactly.
Here's the difference, shot in slo-mo to exaggerate the difference and show how much choppier 60Hz displays are: