Samsung Galaxy Note 9 might be bundled with the Gear S3, brown color version revealed
16
Until now, we've seen leaked
Samsung Galaxy Note 9
renders showing the upcoming phone in black,
blue
, and purple. But those are likely not the only colors variants that the handset will have. A brown Galaxy Note 9 was just revealed in a new render, next to images of the aforementioned blue and black variants - see below.
These new Galaxy Note 9 images - published by Android Headlines - also show the smartphone next to various accessories, including a pair of
Gear IconX
earbuds, a wireless charging stand, and a
Gear S3
smartwatch.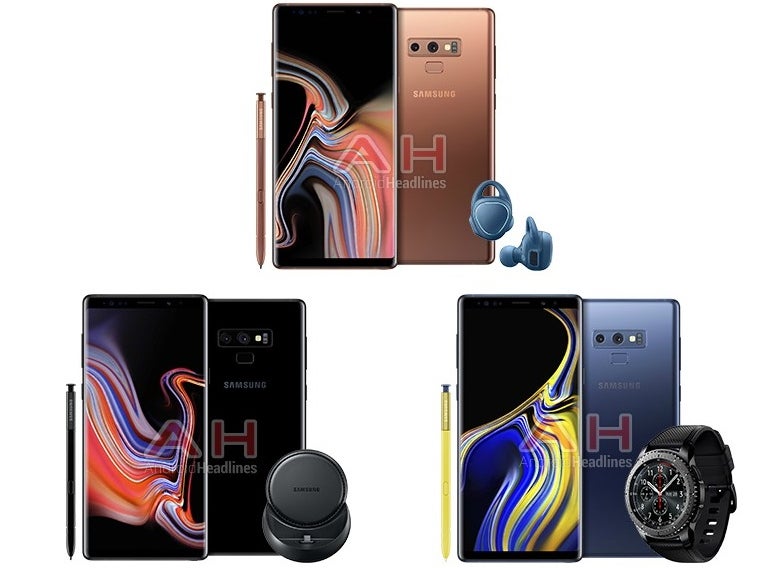 As you probably know, Samsung is no stranger from selling its flagship phones alongside various free gifts. For example, last year's Galaxy Note 8 came with freebies like a
Gear 360
camera, or a microSD card. Thus, it's possible that the accessories we're now seeing next to the Note 9 will be bundled with the handset at launch at no extra cost. Assuming that this is true (there's no confirmation yet), customers will likely have to choose between the Gear S3 watch, the Gear IconX earphones, or the wireless charging stand - getting
all
of them for free should be out of the question. Currently
priced at $279
, the Samsung Gear S3 would be the most valuable gift here.
Earlier today, we heard that
Galaxy Note 9 prices
may start at about €1,000 in Europe. This means we can expect the new handset to cost around $1,000 in the US when bought unlocked or outright. Free gifts like the ones mentioned above would certainly ease the burden of such a high price.