Samsung Galaxy Note 4 long-term review, or how I finally learned to love phablets
62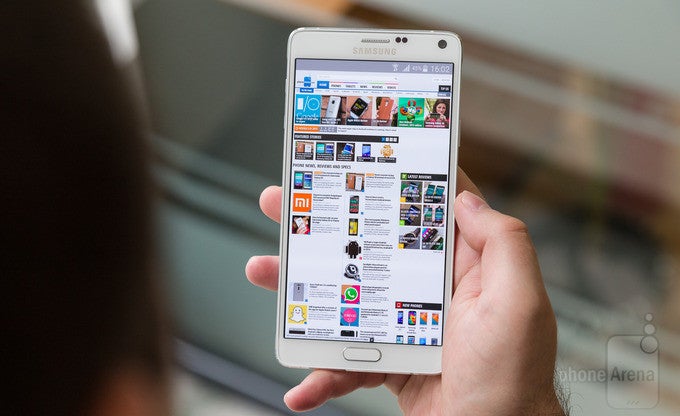 If I had to choose a phone – any phone – to be my one and only daily driver, the
Samsung Galaxy Note 4
would likely land among my top picks. This, however, isn't a phone I would have chosen if you asked me the same question a couple of months ago. Although I've always found Samsung's phablet to be an awesome handset, its sheer size has been something I thought I couldn't live with. Yet I had to.
Back in March, I was given the uneasy task to review the Samsung Galaxy Note 4 in the long term. That is, to spend no less than 5 weeks in its company and give it the review treatment after the dust around it had settled. Obviously, I accepted – I overcame my long-time unwillingness to use an extra-large smartphone and approached my assignment with an open mind. Honestly, I'm glad I did.
This article is the culmination of my long-term review of the Samsung Galaxy Note 4. In the paragraphs below, I will highlight all the major positive experiences I encountered throughout my journey, such as the benefits of having a spacious screen, the strengths of the handset's wonderful camera, and the truly practical uses for the S Pen stylus. But at the same time, I will not skip a single negative impression that I have noted in my book, and there's quite a few of them, as you're about to see.
Design – is bigger really better?
About a week into my long-term review, I shared an update on my progress, linked below. One of the post's major highlights was the Galaxy Note 4's design – what I liked about it and what I wasn't quite happy with. To my surprise, I got used to the phone's proportions in a matter of days – my brain was quick to rewire itself. At that point, I wasn't in love with the Note 4 yet, but every time I watched a video, played a game, or surfed the web on it, I could truly appreciate the benefits of having such a large display at my disposal. What I hated, however, was that it didn't quite fit comfortably in my jeans. Whenever I had to sit or tie my shoes, I had to take that gargantuan slab out of my pocket. What's more, single-handed use was a pain, even though I have hands of larger than average size.
Durability – tough to crack
Size aside, the Samsung Galaxy Note 4 is a well-built, durable phone. I can say this with confidence as my 4-year-old cousin was kind enough to crash-test the handset for me (after being denied a candy bar). Long story short, my Note 4 got thrown across the room and landed on the hardwood floor. It survived, thankfully, and without any visible or functional damage at that. Good job, Samsung!
All in all, the signs of wear and tear that have accumulated on my Samsung Galaxy Note 4 are barely noticeable, and I must point out that I've never had it inside a case. The smartphone's metal frame has taken a few light scratches here and there, but it has not bent and its coating is in pristine condition. Minor nicks are present on the phone's Gorilla Glass 4-protected display as well, but they're virtually invisible while the phone is in use. As for the Note 4's plastic back cover, it still looks as good as new. All physical buttons operate flawlessly. Only the silvery trim around the home button has started to peel off, but I don't think that's too big of a deal.
Physical controls and fingerprint scanner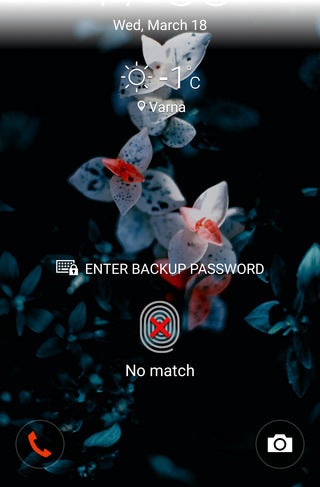 With the Note 4, you'll be seeing this message often
Speaking of buttons, I've been perfectly happy with the physical keys on the Samsung Galaxy Note 4 – it's very satisfying when you press the the home key and it responds with a nice click. It feels analog, and I like it. The capacitive buttons get the job done, but I find them uncomfortable to operate with the thumb on the hand I'm holding the phone with, and I've pressed them by accident more than once while holding the phone in landscape orientation. As for the power and volume buttons, I have absolutely nothing bad to say about them.
What I'm quite unhappy with, on the other hand, is the swipe-type fingerprint scanner. I had it set up instead of a lock screen PIN for about a week – time during which I had to endure the frustration and embarrassment of it failing to reliably read my fingerprint. Sometimes it worked, of course, but when it didn't, it was because I was swiping either too fast or too slow, or because I was not swiping vertically, or because my finger wasn't precisely positioned in the center of the scanner. It was also prone to failing if my hands were slightly moist, like right after I had washed them. All in all, the Samsung Galaxy Note 4 is a high-end product, and half-baked features like its fingerprint scanner don't belong on it.
Display – a huge asset, literally
I can probably dedicate a dozen of paragraphs to the technical specs and features of the Samsung Galaxy Note 4's top-notch display. Instead of bombarding you with charts and figures, however, I'd much rather talk about it from a practical point of view.
First and foremost, it must be made clear that the phone's 5.7-inch screen is a huge asset, and I mean that literally. Its size makes it ideal for playing games as there's plenty of space for my thumbs to move around. Browsing the web on it is also a pleasure as pages beautifully fill the display's whole area. Also, I often found myself watching videos on my Note 4 as I was test-driving Samsung's phablet. Over time, all these benefits made it even clearer to me that having an extra-large display on my smartphone wasn't bad at all, and by the end of my 5-week review period, the Galaxy Note 4 had become my primary entertainment device.
There's more to the Galaxy Note 4's display than sheer size. I must also highlight its resolution of 1440 by 2560 pixels (QHD), producing 515 ppi, which ranks it among the most pixel-dense smartphone screens right now. But I've never been too excited about this figure, and after spending 5 weeks with the Galaxy Note 4, I still don't see much of a benefit from the extra resolution. I do realize that a high-end product has to stand out in one way or another, but the improvement in image quality over a 1080 by 1920-pixel display of identical size is barely noticeable and likely not worthy of all the hype around QHD screens. Feel free to bash me in the comments for saying this.
Using the Note 4 outdoors is not an issue thanks to the great outdoor visibility of its display. Its outdoor mode, which is triggered automatically when the phone is under broad sunlight, boosts the brightness of the screen, thus dramatically improving its usability. On a related note, the screen's minimum brightness goes down to an extremely low point, which allows me to comfortably surf the web at night before bedtime. It's a bad habit, I know.
And before I move on further, I must say that I'm extremely pleased with the sensitivity of the Note 4's display. I've never had any issues with it in this regard. Furthermore, my fingertips glide effortlessly over its Gorilla Glass 4 surface, and the oleophobic coating does a great job at keeping fingerprints at bay.
Interface and functionality – gotta appreciate the little things
Quite a lot has been said about Samsung's Android interface – both good and bad things, to be clear. Personally, I didn't find it all that bad while using the Note 4, and although my experience with it was not perfectly smooth, I think there's a lot of note-worthy goodies that Samsung's UI has to shine with.
As is typical for Samsung's Android devices, the Galaxy Note 4 comes loaded with features of all sorts. Multi Window is a particularly cool one, allowing two apps to run side by side – YouTube or Chrome alongside a favorite IM client, for example. Private Mode, once you figure out how to use it, is great for hiding files and media intended to be seen by your eyes only. Ultra Power Saving Mode extends usage and stand-by times significantly by disabling power-hungry apps and radios.
There's just one thing about all these features, however. While they're cool, I must have used them no more than once or twice during my long-term review. Although I admit that when I had to use them, I was glad that I had them at my disposal. Still, it was the minor features of Samsung's UI that I could truly appreciate, not the major ones. The option to fine-tune the screen's automatic brightness, for example, is brilliant. That the phone vibrates when picked up and there's a missed call or text is pretty clever as well. Also, I
love
Samsung's Smart alarm clock, which nobody seems to care about. When enabled, it wakes you up with a gentle tune that ascends in volume over the course of several minutes. Waking up like this is much more pleasant than having your ears pierced by a quirky alarm sound at full blast.
Speaking of UI features, I must also mention the so-called Briefing screen, which I genuinely despise. In a nutshell, it is a customizable news feed powered by Flipboard that occupies the left-most home screen page – a good idea in theory, but a horribly executed one in practice. It lags. It lags worse than you can imagine, but at least Samsung has kindly included the option to disable the feature.
S Pen – not as useless as I thought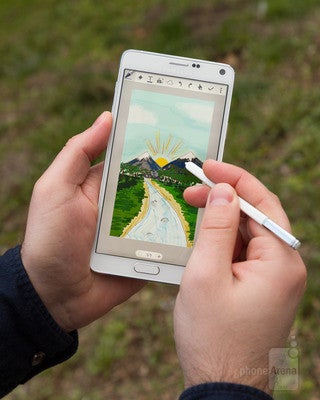 The S Pen is ideal for adding hand-written text to images. Also, drawing with it can be fun
Ah, the S Pen stylus – the trademark feature of the Samsung Galaxy Note 4! It rests in its dedicated silo at the phone's bottom, and while taking it out required extra force at first, the mechanism holding it in place has definitely loosened its grip over time, thus making the stylus easier to pull out.
Technically, the S Pen is a sophisticated accessory. It registers 2048 levels of pressure, its tip can be detected while hovering above the screen, and if you lose or leave the stylus behind, your Note 4 will notify your with a beep. None of this is possible with a run-of-the-mill capacitive stylus.
The S Pen's primary use is supposed to be enabling the user to take down hand-written notes. However, I tried taking notes with it and ended up pretty disappointed, as using the stylus was neither faster nor more convenient over using a note-taking app like Google Keep and the Note 4's trusty virtual keyboard. Besides, my handwriting is anything but elegant.
Still, the S Pen is not as useless as I thought it to be. While it isn't great for taking down notes, it is ideal for adding hand-written text to photos prior to sharing them on Facebook. It also turned out to be good for drawing. Of course, the feel of the S Pen sliding against a glass screen is quite different from that of a brush stroking against canvas, but over time, I can say that I got pretty used to it. In addition, I found the S Pen useful while playing games that require precise input. Board and strategy games have been more convenient for me to play using the S Pen to move my troops around.
Hardware – real-life performance needs improvement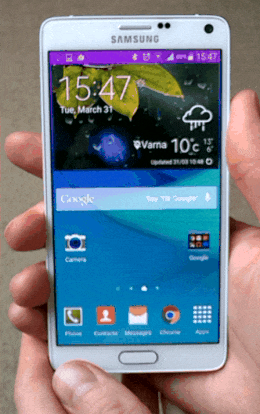 The Galaxy Note 4 can be quite laggy, especially after sitting idle for a while
I was a couple of weeks into my long-term review when I shared another update on my experience and talked about the Samsung Galaxy Note 4's real-life performance. Simply put, the phablet doesn't run as smoothly as a high-end phone should despite the cutting-edge hardware thrown in it. Games run well, that I can confirm. The UI, on the other hand, exhibits occasional lags, and these can get pretty annoying. Slowdowns are most noticeable after the phone has been sitting idle for a while – apps load slowly, home screen transitions are choppy, and the keyboard takes forever to appear. But the recent apps list is arguably the most lag-prone UI element of them all as it might take 2 to 3 seconds for it to show up.
Thankfully, a little housekeeping remedied the situation to some extent. I removed my microSD card, disabled all animations, and turned off apps I didn't use, such as S Voice, Talkback, and S health. My Galaxy Note 4 started performing noticeably better, although it was still far from the state of perfection I was expecting a high-end phone to deliver.
Camera – one of the best shooters around
There's no need for me to get into details here as I've already covered the Samsung Galaxy Note 4's camera in great depth. The TL;DR version of it is that the phablet performs really, really well under almost all sorts of conditions – daytime, low-light, night, and indoors. And it is not surprising that its 16MP, image-stabilized camera was also used for the Galaxy S6 flagship and its curvy counterpart, the Galaxy S6 edge.
There's just a few things that I find irritating. One of them is the camera UI, as the image settings are not quite convenient to get to. Speaking of controls, this camera would have been a much more powerful tool if it gave photographers manual control over settings like shutter speed and focus. In addition, indoor photos might turn out blurry if you have moving subjects in the frame, although this can be avoided if you manually increase the ISO.
That aside, I'm extremely pleased with the Samsung Galaxy Note 4's camera. Below you'll find a selection of shots that I took with the handset, along with links to my in-depth camera review and a list of tips on how to make the most of it.
Multimedia – the Note 4 was made to entertain
As I already suggested above, the large, beautiful display makes the Samsung Galaxy Note 4 ideal for multimedia consumption. It is great for viewing videos or photos, and the size of the screen makes it easy to share that content with buddies. There's more that goes into an awesome media device, however. The single speaker, for example, doesn't set new standards in sound quality, but it is loud and produces clear vocals – I don't have to do the scoop while enjoying my daily dose of YouTube videos. On the downside, its placement on the back is rather inconvenient as the sound is usually radiated away from the user, not at them.

Speaking of sound reproduction, the Samsung Galaxy Note 4 comes with a pretty decent pair of tangle-free earphones. They're of the in-ear kind, like it or not. This makes them light and easy to carry around, although I'm sure that the fit won't suit everyone's ears. But then again, this applies to pretty much every pair of in-ear headphones. In terms of audio reproduction, the sound is mostly free of major peaks or dips across the spectrum, and the earphones' membranes won't start crackling at high volumes. Most genres of music would sound fine on them. On the downside, sound isolation isn't perfect, and there could have been more dynamics in the sound. Of course, should you choose to upgrade to a premium pair of earphones, preferably ones that are easy to drive, you'll be rewarded with greater audio fidelity. The Galaxy Note 4 can play back both lossy and lossless audio out of the box, and it does that wonderfully well.
Battery life – meh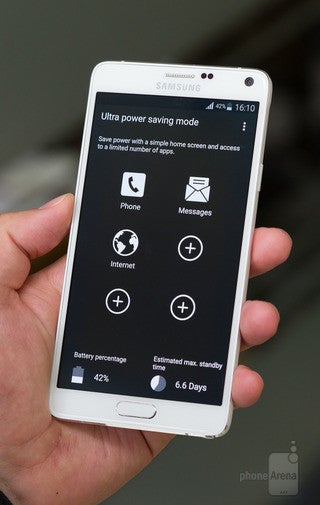 The Galaxy Note 4 features Samsung's Ultra Power Saving Mode, which extends stand-by time. Be sure to whitelist your Alarm Clock, however
One thing the Samsung Galaxy Note 4 couldn't impress me with was its battery life. It was passable – I could last a whole day without being near a plug – but in all honesty, I was expecting more of the phablet and its seemingly generous 3,220mAh cell. I'm pretty sure that the way I had my phone set up was taking a toll on its battery life. I had sync always on for essentials like email, notes, and Chrome data. I never turned my Wi-Fi or cellular data off. I also had a smartwatch paired with the handset for a few weeks. Furthermore, apps like Spotify, YouTube, and my camera were frequently used, although they were usually far from the top spot on my battery stats page. This honor belonged to "Android System" and "Android OS".
Ultra Power Saving Mode? Yes, I used it once because I didn't have much of a choice. But I'm glad I did. It was on a weekend; I went to a birthday party in the evening. I would have shown you a picture, but I couldn't take one because it was dark and I couldn't use my flash – my battery was already below 15%, which rendered my camera pretty useless. When my Note 4's battery level got near the 10% mark, I enabled UPSM because I knew I wasn't going home anytime soon. When I woke up at noon on the next day, I still had 5% of charge left, which was impressive.
If you're wondering why I woke up so late, it was because Samsung's Ultra Power Saving Mode has one serious flaw. It only allows a short list of processes to run, and by default, the alarm clock is not one of them. It has to be white-listed manually. I didn't, which is why the alarm I had set up didn't go off.
Conclusion
5 weeks – that's how long I had to spend with the Samsung Galaxy Note 4 for the purpose of this long-term review. But I held on to Samsung's phablet for at least a week more. I liked it. It wasn't perfect, but it was a phone that catered to my needs pretty well. It kept me entertained with music, videos, and games, it brought the web to my fingertips, and its camera was one I could count on. And perhaps most importantly, it made me realize that the benefits of having an extra-large smartphone greatly outweigh the cons.
In conclusion, I can confidently say that the Samsung Galaxy Note 4 is a smartphone worthy of attention. It is a powerful, well-built phone, and probably the best device of this size category one can have. Whoever chooses to get one, however, should be aware of a thing or two. First of all, the Galaxy Note 4's real-life performance leaves room for improvement. It is not a slow phone by any means, but lags like the ones I experienced, especially after using Samsung's phablet for a while, should not occur on a handset of this rank. Also, I was expecting more of the Galaxy Note 4 in terms of battery life. It never lasted more than a day on a single charge despite its battery of respectable size.
Yet despite its flaws, there's a lot to love about the Samsung Galaxy Note 4. It is probably your best option if you're looking for a powerful, feature-rich smartphone with a large, beautiful screen and a potent, easy-to-use camera. However, there's a good reason why you might want to wait for another 5 to 6 months – that's when a Samsung Galaxy Note 5 is probably going to launch. The latter, hopefully, will perform better both in terms of UI responsiveness and battery life, so the wait for it could be worth it.