Living with the Samsung Galaxy Note 4, week 1: boy, this thing is big
76
This article may contain personal views and opinion from the author.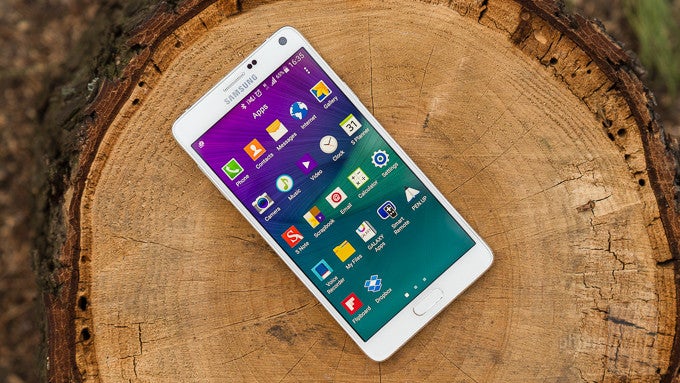 When I was given the assignment of reviewing the
Samsung Galaxy Note 4
in the long term, a flurry of mixed feelings rushed through my mind. On one hand, I knew that Samsung's phablet was an outstanding phone, and using it as a daily driver for over a month was going to be, in a way, a privilege. But on the flip side, I had never been a fan of extra-large phones. A phone that I couldn't comfortably carry in a pocket or handle while holding a mug or a bag of groceries in my other hand didn't make much sense to me. Perhaps my opinion on the matter was about to change? The answer to this and many other questions should arrive at the end of the long-term Samsung Galaxy Note 4 review which I'm working on practically 24/7.
Now, if you're wondering what a long-term review is, wonder no more as it is exactly what it sounds like. In a nutshell, the Samsung Galaxy Note 4 has been my personal smartphone for a week now, and it will remain in my possession for a total of 5 weeks, during which I'll be logging my experience, including all positive and negative impressions that might accumulate. At the end of each week, I'll be posting an update on my progress, focusing on a particular set of features and/or specifications. Today's topic – design.
Is bigger really better?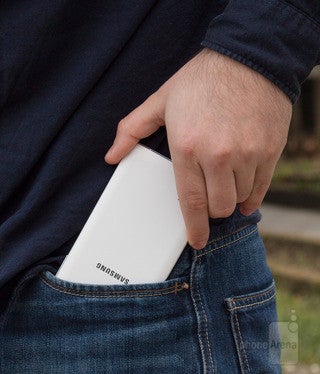 The Galaxy Note 4 fits in a pocket, but try tying your shoes while it is in there
As I stated above, extra-large phones have never really been my cup of tea. That's why it was highly likely for this paragraph to be a rant against the Galaxy Note 4's gargantuan proportions. But instead, I chose to give Samsung's phablet a fair chance at winning my heart, and to tell you the truth, I got used to its size more quickly than I thought I would. That was probably because I could genuinely appreciate the benefits of having a large screen. Being the YouTube addict that I am, I now watch videos mostly on the Note 4 and only occasionally on my laptop. Playing games, as little time as I have to dedicate to this, has become a greater pleasure. Also, I think it is kind of cool having the option to split the screen in two and run apps side by side. I don't use this feature often, but when I do, I'm glad it is at my disposal.
Of course, I still hate how I practically can't tie my shoes or sit comfortably with that thing in my pocket. And single-handed use is frustrating in general, at least in my case, even though my hands are of above average size. Yes, even when I enable single-handed mode, which shrinks the interface to a fraction of its height and width. All in all, I'd say that I'm okay with the size of the Samsung Galaxy Note 4 now that I've used it extensively for a while. I'm not in love with it by any means, but I'm glad I embraced it with an open mind.
It's a material world
For the record, I treat my gadgets as babies. I'm always careful while handling a phone, and it must have been years since I last dropped one by accident. Sure enough, I've been treating the Samsung Galaxy Note 4 with the same level of attention and care. But it is showing signs of wear, although these were most likely caused by whoever used the handset before me. Tiny scratches can be seen on the phone's metal frame; nicks are present on the display as well. These, however, are barely noticeable and only when looked at from a certain angle.
As for the snowy-white back of the phone, it is still in pristine condition, and it has never bothered me that it's basically a thin sheet of plastic. As a matter of fact, I'd take that any day over a fragile glass-made back cover. The leather-like texture is more slippery that I wish it was, but grip has never really been an issue in my experience. In a nutshell, a Galaxy Note 4 should endure the tests of time well if you take good care of it. And the coating on the solid metal frame most likely won't chip off easily. Owners of Galaxy phones with plastic frames know what we're talking about.
Buttons, buttons, who's got the buttons
When it comes to smartphones, there's a heated debate on whether
physical or virtual on-screen buttons are better
. While both solutions have their pros and cons, I've been perfectly happy with the physical keys on the Samsung Galaxy Note 4 – it's very satisfying when you press the the home key and it responds with a nice click. It feels analog, and I like it. The capacitive buttons get the job done, but I find them a bit uncomfortable to operate with the thumb on the hand I'm holding the phone with, and I've pressed them by accident more than once while holding the phone in landscape orientation. As for the power and volume buttons, I have absolutely nothing bad to say about them.
What I'm quite unhappy with, on the other hand, is the fingerprint scanner. It works, but not as well as it should, and that has been causing me plenty of frustration. When the Note 4 fails to unlock, it is either because I'm swiping too fast or too slow, or because I'm swiping sideways, not vertically, or because my finger isn't precisely positioned in the center of the scanner. It gets even worse if my hands are slightly moist, like right after I've washed them. The Samsung Galaxy Note 4 is a high-end product, and half-baked features like its fingerprint scanner don't belong on it. Yesterday, I totally gave up on it and disabled the fingerprint lock.
Do you Note?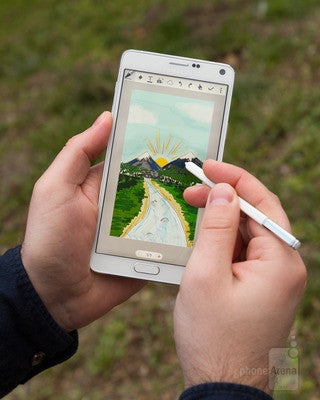 Drawing with the S Pen can be fun, although it doesn't feel very natural
Now seems to be the right time to mention the S Pen stylus that comes along with Samsung's phablet. If you've read our
Galaxy Note 4 review
, you are probably familiar with what it is meant to be used for. You should also know that it rests in its dedicated silo. At first, pulling the S Pen out required lots of force, but over time, the mechanism holding it in place has definitely loosened its grip, thus making the stylus easier to pull out.
Technically, the S Pen is a sophisticated accessory. It registers 2048 levels of pressure, its tip can be detected while hovering above the screen, and if you lose or leave the stylus behind, your Note 4 will notify your with a beep. None of this is possible with a run-of-the-mill capacitive stylus. But to many users, including myself, it simply won't matter as they'll have little to no practical use for the S Pen. I tried taking notes with it, but I found it neither faster nor more convenient over using a note-taking app like Google Keep and the Note 4's trusty virtual keyboard. Besides, my handwriting isn't particularly elegant. Is it good for drawing? Well, I do like to draw, but drawing with a stylus on a glass surface doesn't feel very natural, although I'm sure a dedicated artist will grow used to it over time. The S Pen simply cannot simulate the feel of a pencil or brush stroking against paper or canvas.
To be continued...
So yeah, that's what I have to say about the design of the Samsung Galaxy Note 4 based on my personal, first-hand experience. Of course, there's more to come as I'll be using the phablet for at least 4 more weeks. I've yet to cover its stellar and not-so-stellar performance, as well as my impressions from one of the best cameras on a mobile device to date. So stay tuned, spread the word, and drop a line in the comments below if there's anything in particular you'd like me to focus on.