Living with the Samsung Galaxy Note 4, week 2: Lag? What lag?
91
This article may contain personal views and opinion from the author.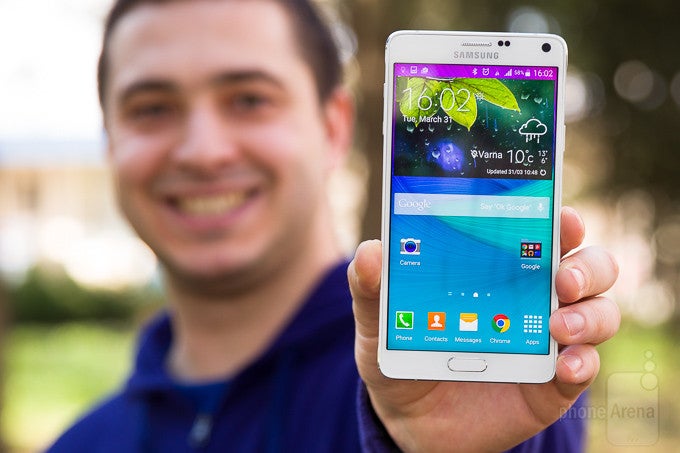 It has been over two weeks since the
Samsung Galaxy Note 4
became my one and only personal smartphone. That was the start of a long-term review I was given charge of – a review meant to explore Samsung's best phablet in detail after the dust around it had settled. To summarize the impressions I've accumulated so far, it has been a bumpy ride. The Samsung Galaxy Note 4 has turned out to be an admirable smartphone, but not one I'd describe as flawless.
Real-life performance leaves room for improvement
You see, when I got the Samsung Galaxy Note 4, I knew that it was supposed to be wicked fast with that Snapdragon 805 and tons of RAM under its hood. I wasn't expecting to encounter performance issues of any kind. And the phone was fast indeed – it could run any game, it could handle any web page, it could play any video without dropping a frame. Yet to my surprise, my smartphone was acting up – not much, but enough to annoy the perfectionist in me.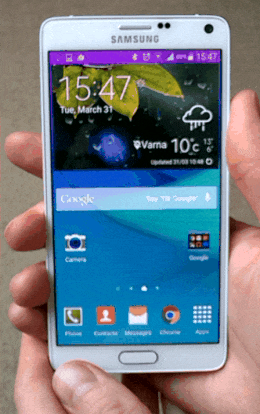 The Galaxy Note 4 lags every once in a while, and I find this annoying
Every once in a while, my Galaxy Note 4 lagged for some reason, especially after it had been sitting idle for some time. For example, delays occurred when I wanted to unlock the phone, when I wanted to list my recent apps, when the keyboard had to pop up, when I pressed the home button to go back to my home screen. I know it might sound like I'm nitpicking, but I wouldn't call it that. In my opinion, a smartphone that costs an arm and a leg should deliver immaculate performance, or at least get pretty close to that point.
Thankfully, a little housekeeping remedied the situation to some extent. I removed my microSD card, disabled all animations, and turned off apps I didn't use, such as S Voice, Talkback, and S health. My Galaxy Note 4 performs noticeably better now, although it's still far from the state of perfection I wish I could achieve.
On a related note, there's hope for the Galaxy lineup. For the Galaxy S6 and S6 edge release, Samsung has built a version of TouchWiz that's supposed to eradicate lag once and for all. I really with that the Galaxy Note 4 will be given the same treatment one day, preferably in its next software update.
Battery life impressions in one word: meh
Another thing I've not been perfectly satisfied by is battery life. It is passable – I can last a day without being near a plug – but in all honesty, I was expecting more of the Galaxy Note 4 and its seemingly generous 3,220mAh juicer. I'm pretty sure that the way I have my phone set up takes a toll on its battery life. I have sync always on for essentials like email, notes, and Chrome data. I never turn my Wi-Fi or cellular data off. I also have a smartwatch paired with the handset. Furthermore, apps like Spotify, YouTube, and my camera are frequently used, although they're usually far from the top spot on my battery stats page. This honor belongs to "Android System" and "Android OS".
Ultra Power Saving Mode? Yes, I used it once because it was my last resort, and I'm glad I did. It was last weekend; I went to a birthday party in the evening. I would have shown you a picture, but I couldn't take one because it was dark and I couldn't use my flash – my battery was already below 15%, which rendered my camera pretty useless. Once it got near the 10% mark, I enabled UPSM because I knew I wasn't going home anytime soon. When I woke up at noon on the next day, I still had 5% of charge left, which was impressive.
If you're wondering why I woke up so late, it was because Samsung's Ultra Power Saving Mode has one serious flaw. It only allows a short list of processes to run, and by default, the alarm clock is not one of them. It has to be added manually. I didn't, which is why the alarm I had set up didn't go off.
But here's where the Galaxy Note 4 shines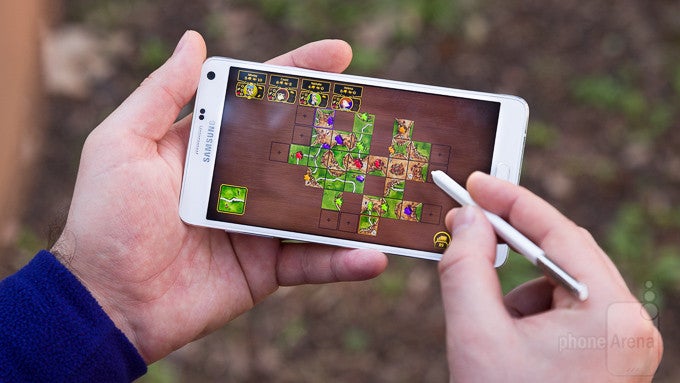 The Samsung Galaxy Note 4 is a great entertainment device
I feel like I should end today's post in a more positive manner because the Galaxy Note 4 is not a bad phone by any means. Since I got it, I has become my primary entertainment device. I genuinely enjoy watching videos on it, be it in the comfort of my couch or while having a snack – the screen is large, bright, and beautiful, albeit a bit too contrasty for my taste. The speaker on the back of the phone is decent. The best thing about it is that it is quite loud – I don't have to do the scoop to direct sound at me while enjoying a video. I wouldn't recommend the Note 4 for listening to music through its loudspeaker, but the headphone output packs a decent punch when paired with earbuds or headphones that are easy to drive. Gaming on the Galaxy Note 4 is also an enjoyable experience thanks to the large touchscreen, which gives plenty of space for my thumbs to move around. On top of that, the touchscreen has excellent sensitivity and would respond even when touched with the tip of my fingernail. And for games that require precise input, the S Pen comes in handy. Perhaps the Note 4's stylus isn't as useless as I initially thought.
To be continued...
That's all for today, but I've still got more to share in the coming weeks. My next update on the Galaxy Note 4 long-term review will cover my experience with the handset's 16MP camera, which I find to be great overall. And in case you've missed it, feel free to read my previous post, in which
I went over the pros and cons of the Note 4's design
.