Living with the Samsung Galaxy Note 4: a camera review
39
This article may contain personal views and opinion from the author.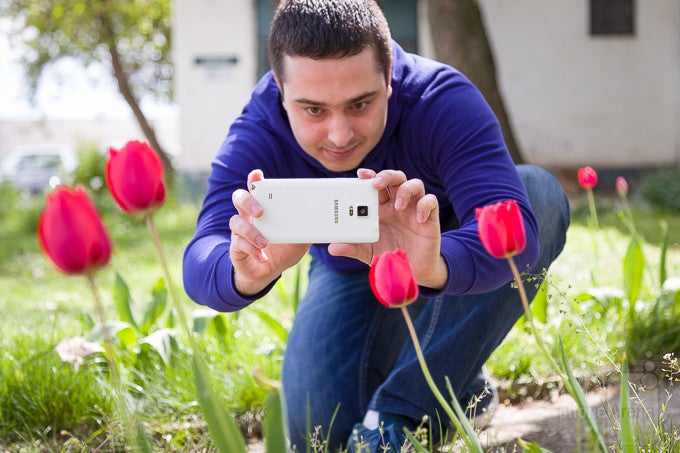 If I had a penny for every time someone asked me which smartphone they should get, I'd now have... a jar full of pennies that no cashier would be willing to accept. Cheesy jokes aside, people often request my advice as a professional smartphone handler, and before I guide them to a particular model, I ask them what they want their smartphone to be good at. As you can probably guess, most folks' priority is the camera; they want a smartphone that can take good photos and videos.
Having this in mind, I figured out that dedicating a generous portion of my Samsung Galaxy Note 4 long-term review to the phone's outstanding camera makes sense. The snapper isn't just good, in my humble opinion – I'd rank it among the best cameras ever put on a smartphone. Of course, it has its flaws, and I'll definitely go over them in the paragraphs below, but even so, few are the phones that can beat the Note 4 in a fair camera comparison.
Hardware specifications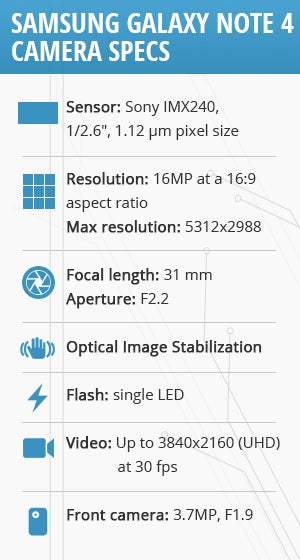 Inevitably, we have to go over some important hardware specs of the Note 4's camera. Among them is the sensor in use – a Sony IMX240. On a related note, this is the very same sensor used in the
Galaxy S6
and
Galaxy S6 edge
, both of which, just like the Note 4, are highly-acclaimed for their potent cameras. While Sony does not publicly provide a datasheet for the IMX240, it is known that the sensor is 1/2.6" in size, sporting 1.12 μm pixels for a resolution of 16 megapixels. Furthermore, the camera module features optical image stabilization which does a good job at keeping the frame steady. This comes in handy while taking photos in low light as it allows the camera to set a low shutter speed without this producing a blurry image. Videos are smooth and steady, too.
Moving further down the specs sheet we see a focal length of 31mm (35mm equivalent). This figure determines the size of the camera's field of view – the smaller the number, the larger the FoV, and vice versa. By comparison, some smartphone cameras go all the way down to 24 millimeters and can fit more into the frame from the same distance. But personally, I've never found myself in a situation where the Note 4 camera's horizontal angle of view was not wide enough. The vertical one, however, now that's another story.
You see, the camera on the Samsung Galaxy Note 4 has a native aspect ratio of 16:9, while many other phone cameras still use 4:3 sensors. The LG G3, the Nexus 6, all Lumia phones and every single iPhone model belong to the latter category. If all other conditions are identical, a 4:3 camera would have a significantly wider vertical angle of view compared to a 16:9 one, as seen in the images below. It is not too big of a deal, but it makes a difference since you can't always back away from your subject to fit it in the frame.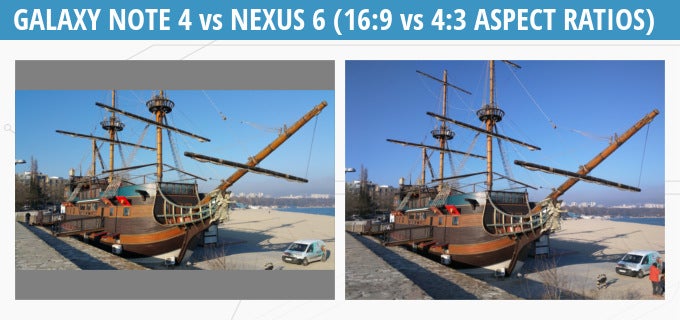 The Google Nexus 6 (right) has a wider vertical viewing angle compared to the Galaxy Note 4 (left). This is primarily because of the difference in their sensors' aspect ratios
Before I proceed further, I'd like to comment on the Galaxy Note 4's design and now it affects the phone's usability when taking photos. The sides of the handset are flat, grippy, and not too narrow, which allows me to get a good hold of the Note 4 in any orientation. Better grip translates to a more stable camera, and a more stable camera produces better photos. Plus, the handset fits easily on a tripod holder. When I'm holding the phone in portrait orientation, reaching the on-screen button is tricky, which is why in this kind of situation I'd rather press one of the volume buttons, which trigger the shutter. Also, I've noticed that the glass covering the camera lens is highly oleophobic. This makes it nearly impossible for
finger smudges to mess up my images
.
If there's one remark I have to make, that would be about the placement of the microphones on the top and bottom sides of the handset. When shooting videos, one has to be careful not to cover them by accident as this can ruin the sound in their videos.
Interface and features
Even cutting-edge hardware is worthless without the right code in charge of it. And in the Galaxy Note 4's case, the camera software gets the job done, but leaves room for improvement. One thing that bothers me is that the camera app lags occasionally during start-up. Whether I use the app icon on my home screen or the shortcut on my lock screen (which is very convenient, by the way), the application needs around 3 seconds, sometimes more, to load and be ready to take a picture. Sure, it might not seem like much, but it is ages compared to the near-instant launch of the iPhone 6's or the Galaxy S6's camera.
Once the camera app is up and running, I'm reminded what an asset is to have a phone with a huge display. It makes a wonderful viewfinder, while all control buttons are large and easy to hit. Speaking of the UI, I do like its uncluttered layout, how there's a dedicated shutter button for shooting videos, and how three shortcut slots can be customized with settings I change often. On the flip side, the UI could use a few tweaks. Actually, Samsung
did
overhaul the layout of its camera interface for the Galaxy S6. It was made simpler and better-organized, all while gaining more convenient manual controls. But the Galaxy Note 4 is still stuck with Samsung's older camera layout.
What's wrong with it? Well, not much if you're a novice user – if you just point at your subject and shoot, letting the camera take care of the rest. And there's nothing wrong with that as most of the time you'll end up with a pretty photo. If you want to have a bit more control over the image, however, then you might be disappointed by the Note 4's rather limited arsenal.
One of the tools the Note 4's camera lacks is proper manual focus control. Yes, there
is
tap to focus and it usually works like a charm, but it gets a bit fiddly to use in low light, albeit on rare occasions. You may lock the focus and exposure by holding down your finger on a given spot, but in a few seconds, the lock is lost for some reason, making it hard to compose an image after that. I also wish that the burst mode, which is activated by holding down the shutter button, was not limited to 30 pictures. Shutter speed control would have also been nice to have.
On the other hand, the Galaxy Note 4 is pretty generous when it comes to modes and effects, and I'm not talking only about the various filters that can be applied to the image. High-res panoramas, photo spheres, animated GIFs, and dramatic sequence shots are just a few of the camera modes at your disposal. Not that I use them regularly, but in certain rare situations, they can be nice having.
Image and video quality
Daytime scenes
Okay, it is time to take a look at some actual photo samples. Long story short, the Samsung Galaxy Note 4 performs flawlessly in daytime. The ISO goes all the way down to 40 for the great majority of situations, which explains why digital noise is hardly noticeable even at 100% zoom. If I want to highlight a particular detail by zooming or by cropping an image, the 16MP of resolution give me plenty of material to work with, and the resulting picture is chock-full of detail. The camera adds just the right amount of sharpness to the image, which preserves the natural look of the details in it. The fixed aperture of F2.2 adds a healthy dose of background blur to close-up images. Color representation is mostly accurate. However, I have noticed deviations in my pictures on rare occasions, including a slight shift of the white balance towards the blueish side. Also, objects that are of bright red color appear overly saturated; this phenomenon is clearly visible in sample #6 in the gallery below. But this aside, the Note 4's photos are stunningly beautiful and life-like.
The gallery below contains unedited, full-resolution images. Loading might take a while. Double-click to zoom in.
Low light and indoor scenes
In low light, the Samsung Galaxy Note 4 continues to impress with its pretty pictures. But the camera has to compensate for the lack of light, of course, so the ISO goes up while the shutter speed goes down. In most cases, the ISO stays below the 400 mark, which is acceptable. Whatever noise makes it into the frame is filtered to a certain extent – although grainy and blurry areas are well visible if you zoom in, as a whole, images look more than presentable. In more extreme low light situations, the camera enables its Night Mode automatically, which in turn slows down the shutter speed to allow even more light into the frame. This is when one has to be careful to not move the phone while shooting, although the OIS seems to eliminate shakiness pretty well. When the flash is used, it fills the frame with much-needed light without skewing color accuracy. However, I do wish that the camera software was smart enough to adjust the flash's brightness. In case the subject is close enough, a less powerful flash with a slower shutter would allow more of the background to be visible in the frame, thus producing a more life-like image.
The gallery below contains unedited, full-resolution images. Loading might take a while. Double-click to zoom in.
HDR
When used in suitable scenes, the HDR mode on the Samsung Galaxy Note 4 can produce awesome photos. The effect is neither too strong, nor too light – bright and dark areas are exposed well, appearing natural, without halos spoiling the image. Better yet, the chance of ghosting imperfections appearing around moving objects is brought down to a minimum thanks to the sheer speed at which HDR images are captured. HDR photos are captured at a very fast pace, with a very short lag for image processing. In practice, about 5 seconds are enough to shoot 30 HDR images in burst mode.
The gallery below contains unedited, full-resolution images. Loading might take a while. Double-click to zoom in.
Panorama
Every once in a while, you come across a scene you can't fit within a single photo. The Panorama mode comes in handy in these cases, and on the Galaxy Note 4, it works wonderfully well. Firstly, there's the high resolution at which panoramas are captured, the produced images can be over 3000 pixels tall and 20,000 pixels wide, for an up to 360-degree view of your surroundings at resolution of around 60MP. The produced image is high on detail and individual portions are stitched very well, with errors occurring rarely. Of course, you still have to be careful and watch out for moving objects as these might produce glitches in your panorama. Another thing I've noticed is that the exposure of the entire panoramic image is calculated based on the first frame taken. In plain words, it is best to start the panorama at a spot that is neither too dark, nor too bright as the produced photo could turn out over- or underexposed.
Animated shot, Drama shot, other modes
As I mentioned before, I haven't really used any of these special camera modes on the Samsung Galaxy Note 4. But in the right occasion, they may potentially produce an impressive image. Animated shot is one of these fancy modes. Basically, it shoots a 5-second burst of images and creates a GIF animation out of them. What's cool is that you can animate only certain portions of the frame an leave the rest static. Unfortunately, the animated area isn't stabilized so it might wobble around, as in the image below.
Drama shot is ideal for showing off those parkour skills. It takes a burst of photos, detects moving objects, and produces a single image that shows the object's trajectory frame by frame. While the effect isn't new – it has appeared on Lumia phones and on previous Galaxy smartphones – it is cool to have and easy to use since image processing is done automatically. Although you can tweak the image manually if you wish to.
Another fancy mode sporty folks might like is the Panning shot. Simply put, it detects a moving object and adds motion blur to its background. The effect is kind of cool, although honestly, I don't see a lot of people using it more than once, just to give it a try.
The use for the Eraser mode should be pretty obvious. Again, a burst of images is taken, and moving objects are intelligently removed from the frame. The mode's effectiveness varies, however. Firstly, the camera needs to be held steadily for the mode to be usable at all. And if there are too many moving objects around – a crowd of people, for example – the mode might not be of any use or could produce stitching errors. What's more, this is a mode you have to activate specifically prior to taking a photo, as if you know that something or someone is about to enter into your frame. It would have been much more useful if Eraser mode was usable each time you take a burst shot. In hindsight, same goes for the aforementioned Drama and Panning shot modes.
Front-facing camera
I don't always take selfies, but when I do, I make sure the Beauty Face effect is set to 11. Okay, I'll stop with the lame meme references. But in all seriousness, the Note 4's front-facing camera is pretty good, at least for the most part. The wide-angle optics allow for plenty of people to fit into the frame – personally, I can get at least six people in the shot without effort. However, the downside of a wide-angle lens is that objects close to the frame's edges are heavily deformed by the inevitable barrel distortion effect. Exposure is always spot-on as the camera appears to detect the faces inside the frame and use them as a reference point. The camera struggles in bright, high-contrast situations, however, and an HDR mode isn't available. Details in images are sufficient, especially in daytime. Low light images are also acceptable, but details in them are much softer while colors are somewhat dull and washed out. Moreover, selfies shot in low light are much more susceptible to motion blur – better stand still while taking one.
The camera app features the aforementioned Beauty Face effect which clears skin imperfections. And it gets its job done pretty well, especially once you adjust the effect's strength to a level you find most suitable. Taking wide selfies is another cool trick the camera can do. Basically, three images are taken separately as you pan the camera left and right, and the software then stitches them together. Also, it is awesome how the shutter can be activated just by placing a finger on the heart rate sensor. The shortcut makes taking selfies very convenient.
Video quality
Like any other high-end smartphone, the Samsung Galaxy Note 4 shoots quality videos. By default, the camera captures 1080p video at 30 frames per second and the produced footage does not disappoint. It is smooth, detailed, and very steady thanks to the camera's optical image stabilization. You may increase the framerate to 60 frames per second if the conditions allow it – when light is plentiful, for example. At 60fps, videos are much smoother and look outstanding because of that, but in low light, digital noise is much more noticeable. Shooting 4K/UHD videos at 30fps is also an option. Thanks to the extra resolution, the produced footage looks amazingly detailed and is ideal for post-processing.
But the list of video features the Note 4 has to offer does not end here. The camera can shoot slow-motion videos at 120fps, and the captured footage can be slowed down to an eighth of its original speed. It is shot at relatively low resolution, however, and lacks detail. Time-lapse mode does the opposite – it takes a single frame every few seconds and combines them to produce a fast-moving video. It can be used to shoot dramatic sceneries like sunsets, moving clouds, and so on.
Conclusion
As a person who enjoys taking photos with and without occasion, I'd say that the camera on the Samsung Galaxy Note 4 is one of the best put on a smartphone so far. It isn't perfect, as I stated earlier, but once you get used to its quirks and peculiarities, you'd find yourself holding on to a very potent camera device.
The Samsung Galaxy Note 4 shines with its ability to produce impeccable photos in almost any every-day situation. Just give it enough light and it will produce a sharp, detailed, color-rich image. But even in low light, the Galaxy Note 4 does not struggle to snap a pretty picture. You just need a fairly steady hand, that's all. Want to shoot a video? Not a problem – the Samsung Galaxy Note 4 excels at that. Footage is smooth, detailed, not to mention that the camera's optical image stabilization keeps the frame steady for you. And if you feel like taking your videos to the next level, there are the 4K and 60fps options, producing ultra-detailed and extra-smooth footage.
Helping you throughout your photographic endeavors is the selection of tools and features the Galaxy Note 4 has to offer. With its easily accessible burst mode, you shoot multiple full-res images each second, and the HDR option with live preview handles high-contrast scenes with ease. Speaking of which, the camera UI and feature set
do
leave some room for improvement. Perhaps a broader array of manual controls would have been nice to have, and a simplified interface layout would have been welcome. But overall, Samsung's camera app gets the job done as it does provide the essential camera features the average user would need. Plus, it is pretty straightforward to use, without much getting in your way as you shoot.
This concludes my in-depth review of the Samsung Galaxy Note 4 camera, which is part of my Galaxy Note 4 long-term review. Now that I've spent over a month with it, I'm ready to share my final thoughts on Samsung's greatest phablet yet. These, however, will come in another article. Expect my final long-term review of the Galaxy Note 4 in the coming days!