Samsung Galaxy Note 3 battery life test: a monster in faux-leather clothes
44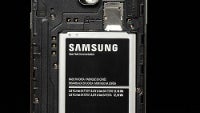 The
Samsung Galaxy Note 3
has gone through our extensive battery test and the results are in. The Note 3 brings one of the largest batteries we've ever seen on a mobile device. With its massive 3200mAh juicer, it aims to solve one of the biggest problems of smartphones - reliable longevity. Most smartphones nowadays are struggling to last through the day and we're not even talking about a 24-hour battery life - most phones would die even before you get back from work. This can be a frustrating experience, taking mobile out of mobile phones. Is the Galaxy Note 3 any different? Let's find out.
Luckily, the Samsung Galaxy Note 3 differs. Its gigantic juicer
scored a respectful 6 hours and 8 minutes of battery life
. This is the exact time you can expect your Note 3 to last if you use it non-stop, without putting it down. In reality, however, we do put our devices to rest. That's why you can expect the battery to easily last you a full work day even under heavier use. Use it a bit more moderately - but still without restricting yourself - and on average, you'd be able to get a full 24-hour battery life on a single charge. Best of all, be a bit more restrictive with your use and you can easily get two full days of use on a single charge. Impressive.
How does the Samsung Galaxy Note 3 compare versus last year's
Galaxy Note II
, though? The difference is not big, but - interestingly - the Note 2 actually lasts a bit longer. How is this possible when the Note 3 has a larger battery? Simple, the new Note is much brighter and has a slightly larger display. The phablet is using a new type of AMOLED display that - unlike earlier ones - solves the issue of dim-looking AMOLED screen. The third-generation Samsung phablet is actually 55% brighter than its predecessor, the Note II. That's a great convenience for the user, but a brighter screen also requires more power. What's really remarkable, though, is that despite having a 55% brighter display, the Note 3 screen is still 26% more power efficient. For the techies, let's just mention that measurements showed that the Note 3 draws 0.9 watts at the average 50% brightness level, whereas the Note II draws 1 watt.
Here are some basic facts about the Samsung Galaxy Note 3 Li-Ion battery:
Finally, we ought to mention that Samsung has put a lot of effort in order to maximize battery life on the Note 3. It is the first phone we know of to ship with a Qualcomm QFE1100 envelope tracker that can lower down power drain by as much as 20%. It's no surprise it
lasts longer than the iPhone 5s
, the
Galaxy S4
and the
HTC One
! Its only matches are the
LG G2
, our battery champ, and the
HTC One max
phablet.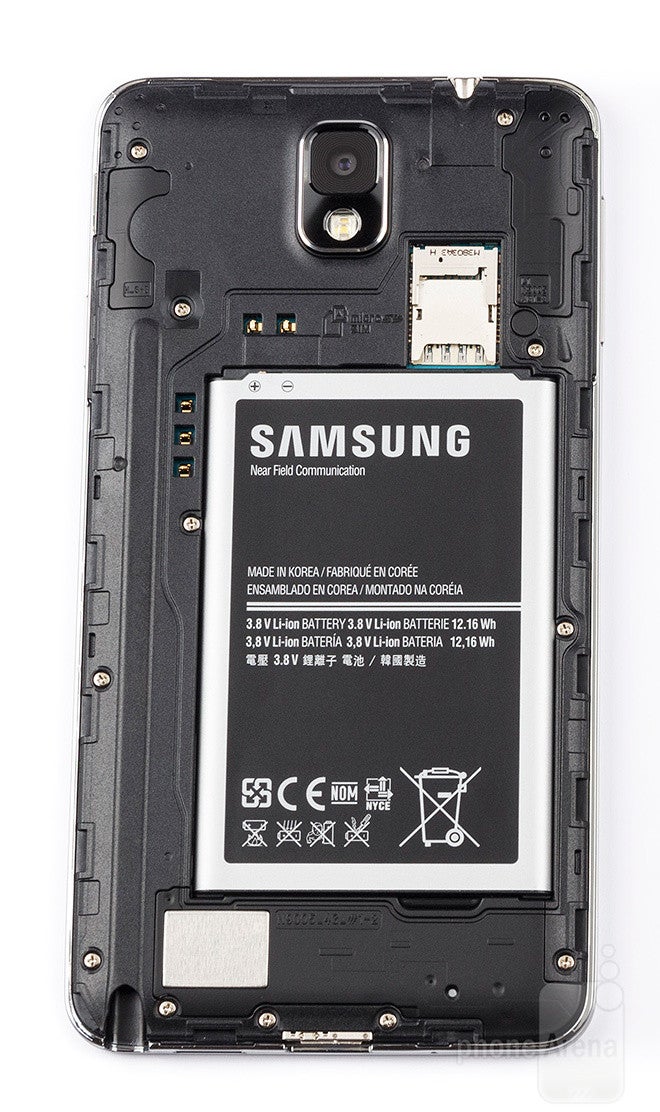 The Galaxy Note 3 features a user-removeable battery.
The Galaxy Note 3 not only features a gigantic battery pack, but one that is actually user removeable. That's quite a rarity nowadays. Just peel the back cover off and you get instant access to the battery pack. Why is this important? Simple, you can easily bring a spare secondary battery and put it in once you run out of juice. It's not something many people would use, but those who need the extra battery life will appreciate it.
When it comes to charging times, the Note 3 ships with an unusually fast for a phone, 2-amp wall charger. This means that it can charge up faster than most other smartphones. Actually, 2 amps is the average speed at which power hungry tablets recharge. Many smaller smartphones like the iPhone 5s use half of that, or just 1 amp. In reality, this faster charger allows the larger Note 3 to refill its battery in around 2 hours and a half, just as fast as your average smartphone. That's a great achievement for such a big device. It takes more time to charge it from a USB port, of course, since the amperage it can provide is much lower.
All in all, the Samsung Galaxy Note 3 ranks on top of our battery charts. It's not only powerful, but also power efficient. Having sold 10 million units in just 60 days, the Note 3 is reaching Galaxy S4-like popularity. With such a long lasting battery - we're not surprised.
Testing method:
As for our battery test, we use a simulation of real-life usage. A smartphone nowadays is used for much more than calling and texting, so we had to take this into account. The average smartphone user actually spends most of the time on the web and social media, and you might be surprised that this average Joe of a user actually listens to music and plays games more than he talks! To get a better understanding of that average use, feel free to take a look at the top activities we do on our smartphones.