Samsung GALAXY Nexus could launch November 21st on Verizon, according to roadmap
17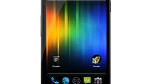 A leakedVerizon memo showing "Upcoming Product Launches" gives us a lot of information about future release dates. First off, the memo confirms the 11/11 launch for the
Motorola DROID RAZR
. We've heard that some stores might welcome your DROID RAZR business on November 10th, but we would suggest that you make a phone call first to check.
More importantly, it now looks like the
Samsung GALAXY Nexus
will beat the Black Friday deadline with a launch the week before, November 21st. Many have been citing the pure Google experience of the phone as the reason they will select this model over the Motorola DROID RAZR or the
HTC Rezound
. The latter device, which
will feature the special Beats by Dr. Dre headphones and the special Beats technology for audio
. According to the leaked roadmap, the HTC Rezound will be rolled out to the masses on November 14th.
Other smartphones listed on the memo include the
Samsung Illusion
, scheduled for a November 17th launch. This is a low to mid-end Android device that will be released the same day as the
BlackBerry Curve 9370
. The latter is a world phone for RIM that runs BlackBerry 7 OS.
Basic phones listed on the roadmap include the
Casio G'zOne Ravine 2
(November 17th),
Verizon Adamant
(December 1) and the
LG Extravert
(12/8). Tablets are also given a nod of the head with an
8 inch Motorola tablet
(most likely the Motorola XOOM Media Edition) and the
Motorola XOOM 2
listed for the same day-November 30th.
source:
AndroidCentral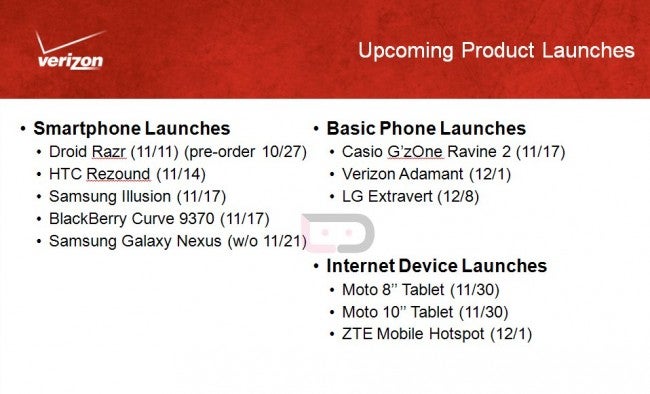 This Verizon roadmap shows the Samsung GALAXY Nexus launching on November 21st