HTC Rezound for Verizon is out - the best smartphone the company has ever made
64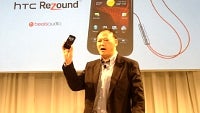 HTC just announced another Android winner for Verizon's holiday lineup - it chipped in to an already great roster with the
HTC Rezound
. Apart from the catchy title, the second LTE phone from the brand seems to be the best smartphone it has ever produced, and its first handset with a
4.3" HD RGB LCD display
.
Yes, it seems that the mind-boggling 720x1280 pixels will be becoming the norm for high-end Android handsets, and finally put an end to Apple's long pixel density reign. Who would have thought just two years ago that we will be carrying phones in our pockets now with HD displays and amazing pixel densities like this here ~341ppi?
The HTC Rezound doesn't stop here, though - it is powered by a 1.5GHz dual-core Snapdragon S3, which, while not the most powerful multicore chipset out there, has plenty of stamina to endure anything the current Android apps can throw at it, and is backed up by a 1620mAh battery pack. Qualcomm also supplies best-in-class integration of its silicon with baseband radio chips, like the
LTE
one in the Rezound for Verizon's top-notch 4G network. The only downside of the handset on paper can be considered its
relatively thick 0.54" (13.65mm) frame
.
A generous
1GB of RAM
trumps the usual 768MB HTC was putting so far in its best handsets, and it also offers 16GB of internal memory plus a 16GB microSD card in the package for a total of
32GB storage
. Let's not forget that HTC got in cahoots with Dropbox for Sense UI users, to provide them with 5GB of free cloud storage as well.
The Rezound sports Android 2.3 Gingerbread, but considering Ice Cream Sandwich shipped with the
Galaxy Nexus
, a 720p display can be considered native resolution for Android ICS, and thus the Rezound should receive the update as soon as HTC figures out how best to integrate the Sense UI with the newest Android version - the press release states
early 2012 for the ICS update
.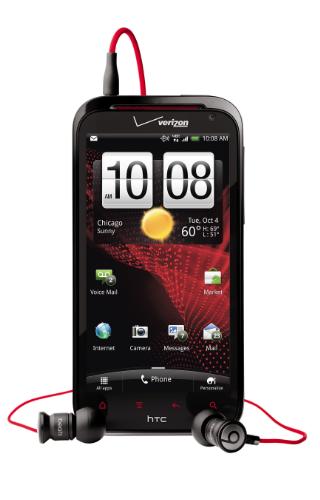 It is also the first HTC handset in the US with
Beats Audio
, which does make a difference with the rebranded iBeats earbuds, and the specialized Beats by Dre sound profile, as we are currently testing on an HTC Sensation XE in the office.
And now we come to one of the hush-hush hardware surprises about the HTC Rezound - its new 8MP camera module with f/2.2 aperture and 28mm wide lens, which is capable of applying live effects directly to the 1080p videos, like
slow motion
, for example. The camera sports a backlit BSI sensor for improved low-light capabilities, which we can't wait to put through its paces. We also have a 2MP front cam for video chat.
Verizon will start selling the HTC Rezound November 14 for the usual high-end LTE price of $299.99 with a two-year contract.