Samsung Epic 4G Touch cut to $149.99 at Sprint
16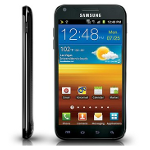 expected to launch in the U.S. next month
, it shouldn't be a surprise to see Sprint cut the price on its variant of the phone. The Samsung Epic 4G Touch is the
only one of the three U.S. versions of the phone to be equipped with a 4.52 inch screen and the dual-core exynos processor
. The new price of the phone is $149.99 with a signed two-year contract.
The Samsung Galaxy S II is considered by many to be the best Android phone ever made. Earlier this month, Samsung introduced the sequel which will launch globally by the end of this month. Three countries will be getting the LTE version of the device, the U.S., Japan and Korea. The U.S. model will hit the market in June while the other two countries are expected to launch the phone later this summer.
It's hard to think about purchasing the Samsung Galaxy S II when the newer model is only weeks away. An incentive is needed and as a result,
we would expect more price cuts
for the Samsung Epic Touch 4G as we get closer to the release of the Samsung Galaxy S III.
source:
Samsung