Rumor: Xiaomi and Huawei to launch curved screen "edge" smartphones this September
14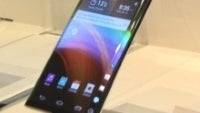 Samsung's edge tech certainly makes for elegant and futuristic-looking devices. There may not be many practical benefits to having the screen curved at the edges, but it certainly makes for a desirable look on a gadget. Some manufacturers have attempted to replicate the edgy display look with smartphones like Blackberry's
Priv
, Vivo's
Xplay 5
, and the most recently announced and not so popular
Ulefone Future
, but the curved corners are still an exotic feature among the major brands.
A new rumor coming from Chinese tech media MyDrivers claims that not one, but two major companies are planning to join the "edge" fray this September. One is Huawei, while the other is Xiaomi.
According to the report, Xiaomi's device will be called the Mi Edge, or Mi Note Edge. Now, Xiaomi has had a top-tier
Mi Note
device in its portfolio before, but going all the way and actually calling the device
Note Edge
may be just a bit over the top, so we would take this piece of info with a massive lump of salt. Allegedly, Xiaomi will be buying its curvy displays from LG — as you may remember, the company did show
an Edge-like prototype
smartphone to its partners back at CES 2015. It is supposed that LG was looking to sell the tech to other smartphone manufacturers, so a deal between it and Xiaomi doesn't sound too outworldish.
The alleged leak also claims that Huawei will be getting their supply of dual-curved screens directly from Samsung. The name of the supposed device is said to be "Huawei Edge Mate", but, again, we have to cringe in disbelief here, at least until we get some more solid reports.
As mentioned, both devices are said to be prepped for a September announcement, probably around IFA times. Xiaomi did just launch its
Mi 5
flagship a couple of months ago, and it's not unreasonable to imagine that it may be looking to introduce a high-class phablet to go along with it half a year later — that's exactly what Samsung has been doing for some years now, and it seems to be accepted well. September is also the time when Huawei will have to refresh its
pressure-sensitive
Mate S
flagship, if the company does intend to keep it on the traditional 12-month upgrade cycle, that is.
source:
MyDrivers
(
translate
) via
GSMDome