Republican Senator says that the GOP is the "iPhone party"
50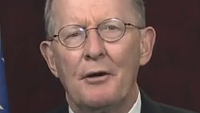 Republican Senator Lamar Alexander from Tennessee, has turned smartphones into political symbols. During the Republicans' weekly radio speech on Saturday, Alexander said that the government should be more like Apple. The senator said that Apple's products are designed "
to create a happier, safer, more prosperous life
." He added that, "
Republicans want to enable and empower you. We want to be the iPhone party
."
Alexander gave examples of what an "iPhone government" would include, such as school vouchers, and more state control over Medicaid. "
Just imagine the Internal Revenue code, the Food and Drug Administration or the Labor Department enabling you rather than ordering you around
," the senator said.
To put the exclamation point on his idea that an iPhone party would help empower U.S. citizens, he called for Americans to submit their own ideas on ways to take the government out of their lives. "
We'll learn from you
," said Alexander.
The smartphone in general hasn't been much of a political animal, although
President Obama's feelings for his BlackBerry
has come up from time to time. In 2011,
President Obama attended a dinner with SiliconValley's most famous executives
, including then Apple CEO Steve Jobs. The late Apple co-founder gave the president an
Apple iPad 2
which he still uses to this day.
We might add that
a smartphone app might have cost Mitt Romney the presidency in 2012
. The app was used by Romney workers to conduct an exit poll on Election Day. Hours before the polls closed, the app showed ROmney winning the presidency with an electoral vote count of 290 to 300. As it turned out, the assumptions were all wrong.
Here's a good question. If the GOP does become known as the "iPhone party," what smartphone does that make the Democrats?
source:
CNN