Changes made to the Samsung Galaxy Fold should prevent a repeat of the previous issues
22
SamMobile cites
a report out of South Korea that claims to reveal all of the changes that Samsung has made to improve the Galaxy Fold. First, it has now "Tucked" the protective film into the body of the foldable screen to prevent buyers from peeling it off. You can warn smartphone buyers a million times not to peel off a film, but if they see a corner that they can lift up with their finger, that itch just has to be scratched. This move will prevent the problem that caused the influencers to damage their units. To prevent a repeat of the debris debacle, Samsung is reducing the size of the gap at the top and bottom of the hinge. In addition, besides adding a warning about removing the protective film on the internal display, Samsung is adding more warnings on the Galaxy Fold's packaging. DJ Koh, the top man at Samsung Mobile, says to expect a new shipping date to be announced sooner than later. The smart money is betting on a June release of the Galaxy Fold. Meanwhile, the device is reportedly being tested by some of the wireless providers in South Korea.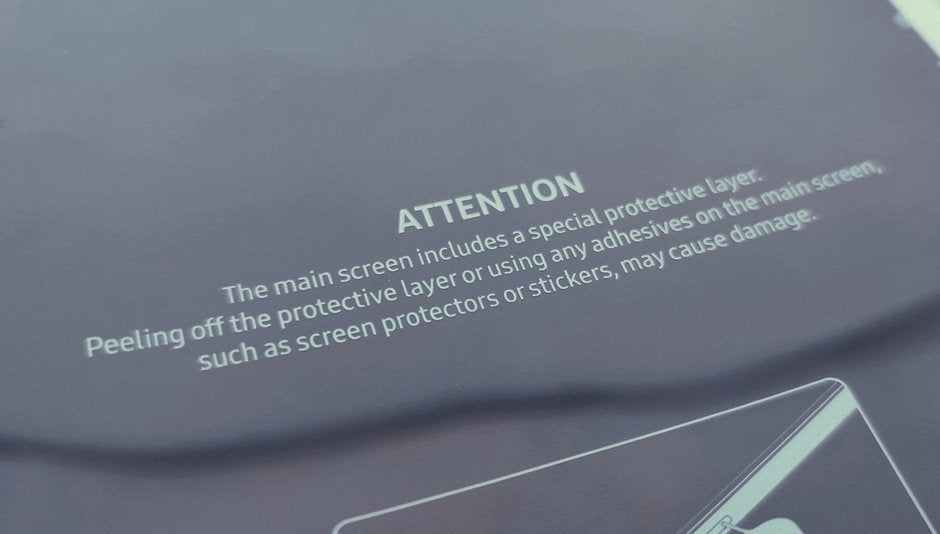 Samsung included this warning on the Galaxy Fold units sent to influencers
Other manufacturers are watching Samsung closely so that they can avoid the same mistakes

The Samsung Galaxy Fold carries a 4.6-inch external Super AMOLED screen with a resolution of 720 x 1680. When the device is opened, it reveals the 7.3-inch internal display (featuring an offset notch) with a 1536 x 2152 resolution. Under the hood is the Snapdragon 855 Mobile Platform along with 12GB of memory with 512GB of storage. The triple camera setup includes a 12MP primary camera with a variable aperture between f/1.5 and f/2.4 and OIS. There is a 12MP telephoto camera with 2x optical zoom and a 16MP camera with an ultra-wide lens. Keeping the lights on is a 4380mAh battery, and Android 9 is pre-installed along with Samsung's OneUI. The latter moves all touchable elements to the bottom of the screen to prevent users from having to stretch out their fingers to tap icons or links at the top of the display. Three apps can be opened and used simultaneously.
The Galaxy Fold is priced at $1,980 in the U.S. It is just one of several foldable phones we expect to see this year. Coming up next could be the already introduced
Huawei Mate X
(priced at the equivalent of $2,600), or the unannounced
Motorola RAZR (2019)
.