Rumor: the foldable Samsung Galaxy X will launch in 2017 with a 4K flexible display
25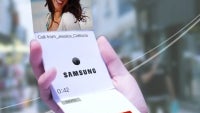 According to a new report from Samsung-centric tech blog Sammobile, the world's largest smartphone manufacturer will launch no less than five flagship smartphones in 2017.
Up until a few years ago, Samsung has routinely released two flagship smartphones per year: a new Samsung Galaxy S model in the first part of the year and a new Samsung Galaxy Note model in the second half. However, once Samsung started introducing slightly altered (read: curved-screen versions) versions of its flagships, the number of top-end Samsung smartphones launched each year has gone up considerably.
If this new rumor is to be believed, Samsung will launch five flagship smartphones in 2017. In the first half of the year, we're likely to be introduced to the Samsung Galaxy S8 and the Galaxy S8 edge, a launch schedule that would mimic Samsung's strategy in the first half of 2016.
Later in the year, Samsung is said to unveil the Samsung Galaxy Note 7 and the Galaxy Note 7 edge. Aside from new iterations in the Galaxy S and Galaxy Note line-ups, the manufacturer is also expected to introduce the Samsung Galaxy X, its first smartphone with a bendable display.
The Galaxy S8 and Galaxy Note 7, as well as their curved-screen variants, are all said to come with QHD Super AMOLED displays with an RGB subpixel arrangement. The Samsung Galaxy X, on the other hand, is rumored to adopt a 4K display with a PenTile subpixel arrangement.
Speaking of the Galaxy X, this handset was often rumored in the past under the
Samsung Project Valley
codename and is expected to come with a screen that bends in half, a feat that would allow users to easily pocket the device when not in use.
Naturally, we're very interested in learning more about the Samsung Galaxy X. Seeing as the transition to bendable smartphone displays is likely to open the door to a new era in smartphone form factors, the Galaxy X could well be one of the most important smartphones of the past few years. Unfortunately, however, details surrounding the Project Valley handset are still pretty scarce at this point and do not go beyond
Samsung patents describing possible foldable smartphone designs
.