Report: Tim Cook to meet with Chinese officials later this month
23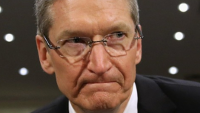 According to a report published today that cites someone familiar with the plans, Apple CEO Tim Cook is taking a trip to China later this month. While it might be a great time for Cook to get out of the U.S. and escape the declining shares, the non-stop concerns about falling iPhone sales and those
hedge fund jockeys calling for his dismissal
, the real reason for the trip is to allow Cook to find out why the government in the country is making things difficult for Apple to operate there.
Apple's sales declined 26% in China during the fiscal second quarter, which covered January through March. These results were part of
the earnings report Apple released at the end of April
which kicked off a nearly 10% decline in the stock.
Cook has plenty to chew over with his hosts. The Chinese government recently forced the company to shutdown iBooks and iTunes Movies in China, and Apple just lost a lawsuit that
prevents it from using the iPhone name on non-smartphone items
. A Chinese firm named Xintong Tiandi Technology registered the name IPHONE in the country back in 2007.
Apple's CEO will be meeting with senior government officials, Communist Party members and officials of the country's propaganda team. While it might not come up in the meetings, it might be in the back of Cook's mind that
investor Carl Icahn dumped his entire stake in Apple
(resulting in a reported $2 billion profit) because of his concern that the Chinese government will continue to make it difficult for Apple to do business in the country. On the other hand, Icahn did hint that he would start buying Apple shares once again once the situation in China was stable.
This isn't the first time that the Apple executive has made a trip to China. Some of his previous visits to the country include
one made in 2012
. Another visit was made in 2013 to visit China Mobile. At the time, the world's largest carrier was negotiating with Apple to add the iPhone to its lineup. A year later, Cook returned to China to present China Mobile's CEO with a gold Apple iPhone 5s.

source: Reuters