Tim Cook visits China to sort a number of problems out
10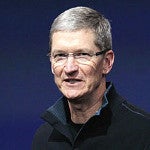 Apple's Chief Executive Officer, Tim Cook, is on a visit to China - the company's second biggest market currently. During his visitation, the executive will be looking into a number of problems related to Apple's operations in the country, from a recent dispute over the iPad trademark, to the notorious work conditions at Foxconn - the company that's in charge of assembling iPhones and iPads.
Apparently, securing its foothold in China is of primary importance for Apple nowadays, and that shouldn't really be much of a surprise, considering that not only is it Cupertino's second-biggest market, but it's also Cupertino's fastest-growing market. China spokesperson for Apple, Carolyn Wu, has confirmed that the CEO is there in order to meet a number of government officials in his quest to improve Apple's performance there. Although the firm has a strong presence on the Chinese market, it's been said that Samsung has been gaining some traction lately, at the expense of Apple.
It's not out of the question that Tim Cook might be having talks with
China Mobile
- the only Chinese carrier that's not carrying the iPhone yet. If both companies somehow manage to come to a deal regarding the iPhone, this might represent a huge boost for Apple sales in the country (and as a whole), considering the fact that China Mobile is the largest mobile carrier in the world.
As we mentioned earlier, part of the reason for Cook's visit might be the recent
legal issue with Proview
- a relatively small tech company that claims to have registered the iPad name in the country. Although some sources familiar with the matter have claimed that the official doesn't have any scheduled meetings with Proview representatives, he may still be looking for ways to deal with the issue, as Apple has yet to launch its latest iPad in China.
Last, but not least, CEO Tim Cook may also be taking part in the process of
reviewing labor standards at Foxconn
. The issue has gotten extreme media attention lately, citing poor working conditions, insufficient wages, and overly monotonous lifestyle for all the employees working at Foxconn's plants. Keeping in mind that Cook was one of the main figures behind the establishment of Apple's efficient supply chain, he might very well be the right man to take care of these kind of problems.
source:
Reuters