Carl Icahn dumps all of his Apple shares, scores a $2 billion profit
50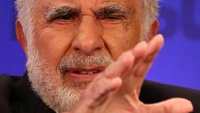 Investor Carl Icahn announced today that he has sold out his entire position in Apple. Hearing this, other investors copied Icahn and exited their Apple position sending the shares down another 1.5% this afternoon. Yesterday,
Apple shares dropped 6.3% taking $40 billion off of the company's valuation
as traders
reacted to Apple's second fiscal quarter results
.
Icahn, who avoided getting caught up in the 1980's insider trading scandal that snagged big Wall Street superstars like Ivan Boesky and Michael Milken, said that he took a $2 billion profit on the transaction. He had built up a position representing just less than 1% of Apple's outstanding shares. He added that Apple is still a "great company" and CEO Tim Cook is "doing a great job." Icahn alerted Cook to the sale after the shares were all sold.
The former options wizard and arb blamed China for his decision to sell. He says that the Chinese government could make things difficult for Apple. Just the other day, Apple was forced by the Chinese government to suspend iTunes Movies and iBooks. Some believe that the ordered shutdown was in retaliation to the listing of a movie on iTunes that was critical of Hong Kong.
Icahn did say that he will start buying Apple shares again once the situation with China "is steadied."
source:
CNBC
Recommended Stories